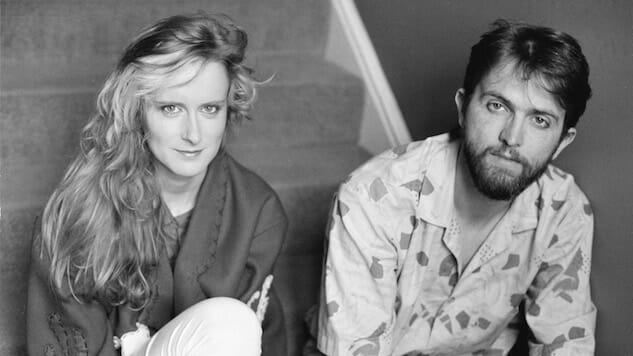 '80s English pop outfit Prefab Sprout have announced vinyl reissues of three studio albums and the band's 1992 A Life of Surprises greatest hits compilation, set to hit shelves Sept. 27.
The band's 1984 debut Swoon, 1988 commercial success From Langley Park to Memphis and 1990 release Jordan: The Comeback will receive new pressings, remastering and reimagined artwork. The band's web store notes that the reissues were "fully orchestrated" by members Paddy and Martin McAloon.
The band will also release both Jordan: The Comeback and A Life of Surprises: The Best Of as double LPs for the first time internationally.
New pressings of the albums and vinyl bundles can be preordered here.
Check out the tracklisting for each vinyl below and revisit our 2019 chat with Paddy McAloon here.
Swoon (1984) Tracklist:
Side 1
01. Don't Sing
02. Cue Fanfare
03. Green Isaac
04. Here On The Eerie
05. Cruel
Side 2
01. Couldn't Bear To Be Special
02. I Never Play Basketball Now
03. Ghost Town Blues
04. Elegance
05. Technique
06. Green Isaac II
From Langley Park to Memphis (1988) Tracklist:
Side 1
01. The King Of Rock 'N' Roll
02. Cars And Girls
03. I Remember That
04. Enchanted
05. Nightingales
Side 2
01. Hey Manhattan!
02. Knock On Wood
03. The Golden Calf
04. Nancy (Let Your Hair Down For Me)
05. The Venus Of The Soup Kitchen
Jordan: The Comeback (1990) Tracklist:
Side 1
01. Looking For Atlantis
02. Wild Horses
03. Machine Gun Ibiza
04. We Let The Stars Go
05. Carnival 2000
Side 2
01. Jordan: The Comeback
02. Jesse James Symphony
03. Jesse James Bolero
04. Moon Dog
Side 3
01. All The World Loves Lovers
02. All Boys Believe Anything
03. The Ice Maiden
04. Paris Smith
05. The Wedding March
Side 4
01. One Of The Broken
02. Michael
03. Mercy
04. Scarlet Nights
05. Doo Wop In Harlem
A Life of Surprises: The Best Of (1992) Tracklist:
Side 1
01. The King Of Rock'n' Roll
02. When Love Breaks Down
03. The Sound Of Crying
04. Faron Young
Side 2
01. Carnival 2000
02. Goodbye Lucille #1 (Johnny Johnny)
03. I Remember That
04. Cruel
Side 3
01. Cars And Girls
02. We Let The Stars Go
03. Life Of Surprises
04. Appetite
Side 4
01. If You Don't Love Me
02. Wild Horses
03. Hey Manhattan!
04. All The World Loves Lovers