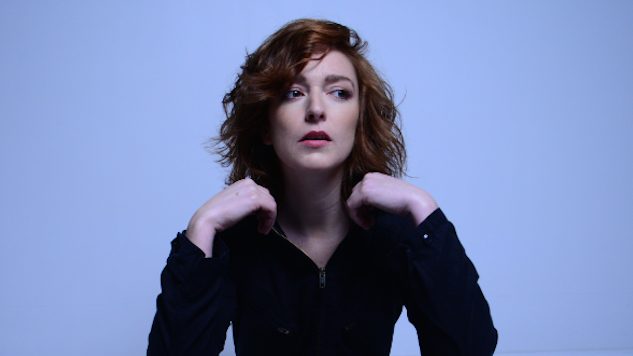 Singer/songwriter Alyse Vellturo, aka pronoun, has unveiled a remix from Chain Gang of 1974 of her track "run," taken from her 2019 debut album i'll show you stronger. Today (July 10), pronoun has also announced new tour dates with Real Friends.
Between the two versions of "run," there's a clear change in states of matter. The misty indie-pop original is crystallized into an electro ice sculpture. Chain Gang of 1974's remix ditches the original guitar-centric sound and mixes in glistening synths and New Wave percussion, leaving Vellturo's skying pop vocals fully intact.
pronoun explained how this collaboration came to light:
When scrolling through my Discover Weekly I stumbled upon "Stoned, and Alone" by Teenage Wrist as well as "I Still Wonder" by Chain Gang of 1974. I save all my favorites and share on my socials, tagging the artists when I really dig something. Teenage Wrist responded instantly saying they were fans of my music as well. Me and Kamtin, the singer, got to talking about our projects and he mentioned he had a solo project called Chain Gang of 1974 and my jaw dropped. What are the odds that both of his projects, living in very different genres, not only connected with me but were on the my Discover Weekly the same week! Anyway, Kamtin said he had been loving "run" and the rest is history!
Kamtin also added, "I was very pleased to be asked by Alyse to remix one of her songs. I had become a fan of her music months prior to building an online friendship with her. When the opportunity presented itself, I jumped on 'run.' The original is my favorite track of hers, so I wanted to do it justice. I felt the need to completely transform the shape of the song by giving it this electronic and cinematic makeover."
Listen to pronoun's "run" remix and watch their full Paste Studio session below. You can see their upcoming tour dates further down.
pronoun Tour Dates:
July
11 – New York, N.Y. @ Rough Trade
13 – Chicago, Ill. @ House of Vans *
August
30 – Cleveland, Ohio @ Mahall's #
31 – Wanaque, N.J. @ Forget Me Not Fest #
September
01 – Buffalo, N.Y. @ Rec Room #
03 – Brooklyn, N.Y. @ Brooklyn Bazaar #
04 – Asbury Park, N.J. @ House of Independents #
05 – Amityville, N.Y. @ Amityville Music Hall #
06 – Philadelphia, Pa. @ The Foundry #
09 – Lansing, Mich. @ The Loft #
19 – Norfolk, Va. @ Waterside District *
20 – Baltimore, Md. @ Power Plant Live! *
21 – St. Louis, Mo. @ Ballpark Village *
(* w/ Taking Back Sunday)
(# w/ Real Friends and Keep Flying)