Watch the Subliminally Sinister Video for PVRIS' First Single in Two Years, "Death of Me"
Photo by Lindsey Byrnes
Music
News
PVRIS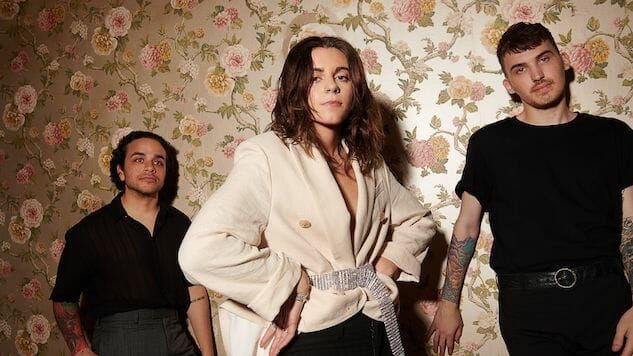 Massachusetts rockers PVRIS have released their first taste of music in two years, "Death Of Me."
With a blend of nuances from their usual pop-rock sound and a newer, heavier electronic influence, "Death Of Me" takes PVRIS further into the land of alt-pop. Produced by JT Daly, the single features catchy snaps, claps and beats, along with frontwoman Lynn Gunn's powerful vocals. After two years, it seems the band has found a new niche, and they have a new vision for what can only be assumed is a new album in the works.
Accompanying the single, the band released a sinister and dark music video that was conceived by Gunn and directed by Katherine White. Filled with snakes, knives and subtle but twisted imagery, the video for "Death Of Me" finds Gunn surrounded by omens of evil, all while alluding to the occult.
"We wanted to match the seductive grittiness of the song with uncertain, tense and subliminal visual themes," Gunn said in a statement. "We also hid—in plain view—references to the occult and divination, to be unpacked by the viewer … if they so choose."
The band's last release prior to the single was their 2017 sophomore release All We Know Of Heaven, All We Need Of Hell. "Death Of Me" also marks the band's first single since signing with Warner Music Group's Reprise Records at the beginning of the year.
Watch the ominous video for "Death Of Me" below and revisit PVRIS' 2016 Daytrotter session further down. You can also view PVRIS' forthcoming U.S. tour dates below all of that.
PVRIS Tour Dates:
September
06 – Los Angeles, Calif. @ El Rey
07 – San Francisco, Calif. @ Great American Music Hall
10 – Denver, Co. @ Marquis Theater
12 – Minneapolis, Minn. @ Fine Line
14 – Chicago, Ill. @ Riot Fest
15 – Nashville, Tenn. @ The Cowan
17 – Boston, Mass. @ The Bowery Presents Boston
18 – Brooklyn, N.Y. @ Music Hall of Williamsburg