Quincy Jones's 10 Best Music-Related Interview Gems
From Michael Jackson's face to Ray Charles's testicles...
Photo: Getty Images
Music
Features
Quincy Jones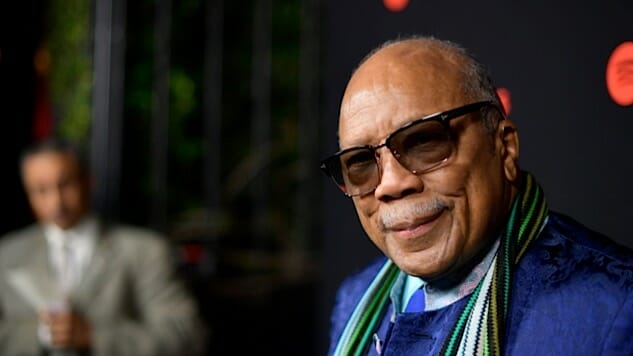 Quincy Jones seems to be unburdening himself these days. At 84 years old, the legendary producer, arranger, writer and performer still spends his nights working on music and, recently anyway, spends his days dishing on 70 years' worth of pop-culture celebrity gold. In an interview with GQ last week, Jones threw open the doors on scandalous memories involving Marlon Brando, Richard Pryor, the Clintons, Taylor Swift, Donald Trump, and many others. This week, he unleashed another avalanche of profanity-laced anecdotes, theories, drug stories and philosophies in Vulture, starring no less legendary collaborators than The Beatles, Jimi Hendrix and Michael Jackson. (It's no wonder his daughters call him "LL QJ": Loose-lips Quincy Jones.) Here are the 10 best music-related highlights from the two interviews, which you can find here and here.
1. On Michael Jackson's habit of nicking songs:
"I hate to get into this publicly, but Michael stole a lot of stuff. He stole a lot of songs. [Donna Summer's] 'State of Independence,' and 'Billie Jean.' The notes don't lie, man. He was as Machiavellian as they come… I used to kill him about the plastic surgery, man. He'd always justify it and say it was because of some disease he had. Bullshit."
2. On Prince's aborted plan to sing on Michael Jackson's 'Bad':
"It started off funny. Michael said, 'I never been to Minnenapolis.' [Prince] said, 'It's Minneapolis!' Oh God…man, this is not going too well. Then Janet went by. [Prince] said, 'Relax your lips, girl.' And it was not going well, that's for sure. Then we went upstairs, and he saw the chimpanzee and the snake, he said, 'Now, that's interesting.' And then he says to me, 'He doesn't need me on this—it's going to be a hit anyway.' Which is true."
3. On Jimi Hendrix pulling out of playing on Jones's 1970 album Gula Matari:
"He was supposed to play on my album and he chickened out. He was nervous to play with Toots Thielemans, Herbie Hancock, Hubert Laws, Roland Kirk—those are some scary motherfuckers. Toots was one of the greatest soloists that ever fucking lived. The cats on my records were the baddest cats in the world and Hendrix didn't want to play with them."
4. On his first impressions of The Beatles.
"They were the worst musicians in the world. They were no-playing motherfuckers. Paul was the worst bass player I ever heard. And Ringo? Don't even talk about it. I remember once we were in the studio with George Martin, and Ringo had taken three hours for a four-bar thing he was trying to fix on a song. He couldn't get it. We said, 'Mate, why don't you get some lager and lime, some shepherd's pie, and take an hour-and-a-half and relax a little bit.' So he did, and we called Ronnie Verrell, a jazz drummer. Ronnie came in for 15 minutes and tore it up. Ringo comes back and says, 'George, can you play it back for me one more time?' So George did, and Ringo says, 'That didn't sound so bad.' And I said, 'Yeah, motherfucker because it ain't you.' Great guy, though."
Watch this exclusive interview with Quincy Jones from Nov. 4, 1984.
5. On whether U2 still making good music:
"I love Bono with all my heart, but there's too much pressure on the band. He's doing good work all over the world. Working with him and Bob Geldof on debt relief was one of the greatest things I ever did. It's up there with 'We Are the World.'"
6. On Cyndi Lauper messing up 'We Are the World':
"She had a manager come over to me and say, 'The rockers don't like the song.' I know how that shit works. We went to see Springsteen, Hall & Oates, Billy Joel, and all those cats and they said, 'We love the song.' So I said [to Lauper], 'Okay, you can just get your shit over with and leave.' And she was fucking up every take because her necklace or bracelet was rattling in the microphone. It was just her that had a problem."
7. On commercialism in pop music:
"When you go after Ciroc Vodka and Phat Farm and all that shit, God walks out of the room. I have never in my life made music for money or fame. Not even Thriller. No way. God walks out of the room when you're thinking about money. You could spend a million dollars on a piano part and it won't make you a million dollars back. That's just not how it works."
8. On Frank Sinatra's volatile personality:
"He was bipolar, you know. He had no gray. He either loved you with all of his heart or else he'd roll over your ass in a Mack truck in reverse. He was tough, man. I saw all of it. You know, I'd see him try to fight—he couldn't fight worth a shit. He'd get drunk, and Jilly, his right-hand guy, stone gangster, would get behind him and break the guy's ribs."
9. On Truman Capote's reluctance to have Jones score the 1967 film adaptation of In Cold Blood:
"Truman Capote, that motherfucker, he called [director] Richard Brooks up on In Cold Blood and said, 'Richard, I don't understand why you've got a Negro doing the music for a film with no people of color in it.' And Richard Brooks said, 'Fuck you, he's doing the music.' Richard was tough."
10. On Ray Charles's insane heroin habit:
"I've seen him shooting in his testicles, man. Because heroin's a strange drug. Ray, all of his veins were dried up and black, and he's shooting himself in the testicles, man… He had a guy do it. It was horrible."