Radiohead Share Intimate, Paul Thomas Anderson-Directed Live Video for "Present Tense"
Images via YouTube
Music
Video
radiohead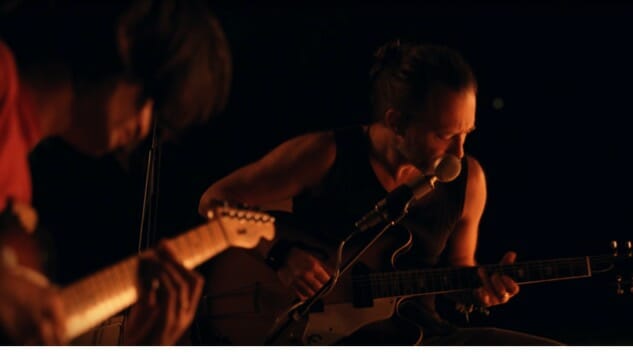 Radiohead shared the third music video from A Moon Shaped Pool yesterday. "Present Tense" now joins "Burn the Witch" and "Daydreaming" in the band's video catalog from the acclaimed album.
Featuring Jonny Greenwood and Thom Yorke both playing guitar, accompanied by a Roland CR-78 drum machine, the video is warmly lit with an incandescent glow surrounding the two musicians sitting on park benches. Lush, swelling reverb lays a blanket under Yorke's voice as Greenwood plays twirling melodies.
The video was directed by none other than Paul Thomas Anderson (Boogie Nights, There Will Be Blood), who also directed "Daydreaming." See the new video above.