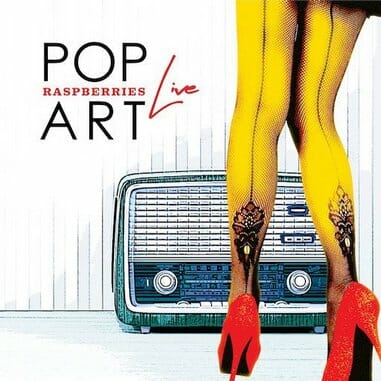 In their early '70s heyday, The Raspberries fused the upbeat boy-loves-girl melodicism of the Beatles with The Hollies' choirboy barbershop vocals, then injected the whole mix with the turbocharged sexuality of adolescence. Finally, they shoved it through the Who's giant Marshall stack. In the summer of 1972, "Go All The Way," their paean to frantic teenage lust blared from every car radio in America.
After four albums and one lineup change, the band split acrimoniously with day-after-never chances of reuniting. Over the next 15 years, head 'berry Eric Carmen popped into the top of the Billboard charts on the strength of his throaty, urgent voice and ultra-mainstream heartland singles like "All By Myself" and "Hungry Eyes."
As they often seem to do these days, in 2004, pigs flew and hell froze over and chickens grew teeth and the Raspberries' original lineup—Carmen, Wally Bryson (guitar), Dave Smalley (bass), and Jim Bonfanti (drums)—reunited for a North American tour. Memorialized on Rykodisc's 2007 Live on Sunset Strip, the tour was a hit with fans, critics, and the band members themselves. Carmen intimated that he'd been writing new songs, and a Raspberry revival looked promising.
It's 10 years later, and though those new songs have yet to emerge, Omnivore records has released Pop Art Live, documenting the 2004 reunion's opening night: the original lineup's first show in 32 years.
Pop Art proves the Raspberries to be a tremendously capable group, musically. Bryson delivers fluid, squealing solos, while Smalley anchors the group through a surprising number of rhythmic twists and turns. Bonfanti, though, is the real hidden treasure on the record. He fires off frenzied, Keith Moon-style fills that give the music a sense of imminent blastoff. Further, Carmen's voice hasn't lost any of its range or fire, making 30-year-old songs played by guys in their 50s sound fresh, relevant, and positively ecstatic. And the addition of four additional musicians Carmen nicknames "The Overdubs" allow the harmonies to soar. The a cappella breakdown in the center of "Overnight Sensation (Hit Record)" is flawless; contrasted with the thundering Bonfanti fill that ushers the instruments back in, it's breathtaking.
To some extent, there's a "Why bother?" element to Pop Art's release. Although recorded a year earlier, it bears a striking similarity to Sunset Strip. The personnel are nearly identical (Pop Art includes one percussionist not on the earlier album) and each record features all of the Raspberries' best-known songs, and in that sense, they provide comparable summaries of the reunion. Pop Art offers a longer and somewhat more revealing set than Sunset, including three Beatles covers ("No Reply," "Ticket To Ride" and "Baby's In Black") and a pair of songs from Raspberries precursor band The Choir. A scorching version of fan favorite "Starting Over" kicks off disc two, followed soon after by a hypnotic "I Saw The Light."
Pop Art portrays a band relishing their unlikely reunion and the people that came out to support them. Carmen repeatedly thanks their audience for years of support, repeatedly assuring them that they're the best fans in the world. Above all, though, they're overjoyed by the chance to play these songs once again. "Gosh, that one's fun!" Carmen barks after "Nobody Knows." "Another one of my favorites from Eric Carmen," Bryson remarks as the last note of "Let's Pretend" fades. "Nice to see you all here tonight," Carmen tells the crowd, pausing a second before exclaiming "And I must say, it's kind of nice for us to be here tonight," and tearing into the next song.