Watch the New Trailer for Roger Waters Concert Film Us + Them
Photo by Kevin Mazur/Getty
Music
News
Roger Waters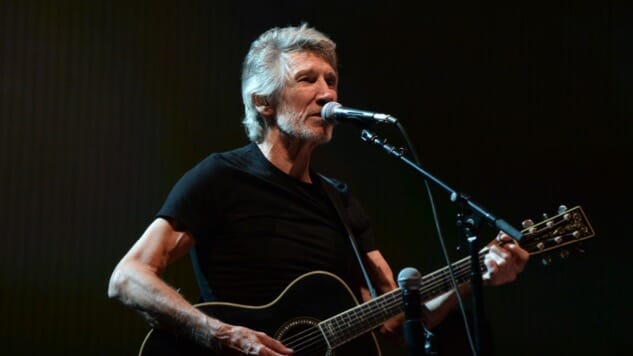 Roger Waters and Trafalgar Releasing shared a new trailer for Us + Them, a forthcoming film about the legendary Pink Floyd co-founder and multi-instrumentalist's tour that will screen in theaters worldwide this October.
Us + Them was filmed in Amsterdam on the European leg of Waters' international tour in 2017 and 2018.
The film gets its name from the iconic 1973 Dark Side of the Moon song and will feature Waters' live renditions of other Pink Floyd classics from The Wall, Animals and Wish You Were Here, as well as tracks from his 2017 album, Is This The Life We Really Want?
Waters joined together with visionary director Sean Evans in making the film, which will show footage from his tour. Waters is renowned for his political activism, as well as his wide array of musical and artistic abilities. According to a press release, Us + Them will "inspire" viewers "with its powerful music and message of human rights, liberty and love."
Waters said of the film in a statement:
I'm so looking forward to the launch of the movie in October. US is not standard rock and roll fare, some in the audience may 'yee haaaa!!!' Which is ok, but many will weep. That is what I hope for. US THEM is a call to action. Homo Sapiens stand at a crossroads, we can either pool our love, develop our capacity to empathise with others and act collectively for the good of our planet, or we can remain Comfortably Numb, and continue, like blind lemmings, on our current omnicidal death march towards extinction. US + THEM is a vote for love and life.
The film's director Evans added, "This is a great film—an amazing performance delivered with care, emotion and meaning. Didn't think it was possible, but I believe we've outdone The Wall … "
Us will be screened in 2,500 cinemas across 60+ countries on Oct. 2 and 6 only. Tickets are now on sale at Waters' website.
Check out the official trailer and poster for Us + Them below, and listen to a 1977 Pink Floyd performance of "Us and Them" from the Paste archives further down.