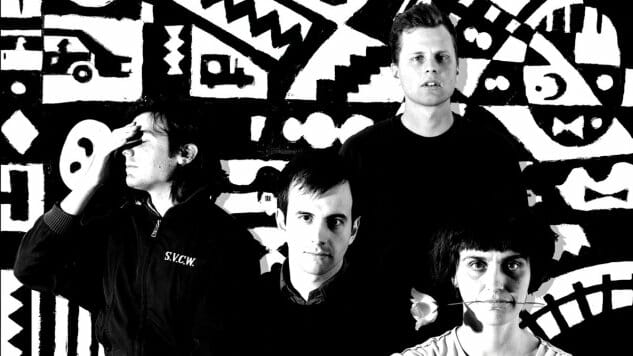 It's official: critics love Rolling Blackouts Coastal Fever's album Hope Downs. And they absolutely should—it's one of the best guitar pop records of the year, strongly evoking both the literate pop of Australia's the Go-Betweens and the intricate but rough-hewn rock that flourished in New Zealand in the 1980s. Rolling Blackouts Coastal Fever are part of a brilliant music scene in Melbourne, Australia, that exhumes those college radio sounds for the streaming times of today. They have a much higher profile in America than their fellow travelers, if only because they've benefited from the promotional support of a large label in the form of Sub Pop, but that doesn't mean the other bands in their scene are any less worthy of notice today. In fact, Rolling Blackouts aren't even the best of the current wave of amazing Australian and New Zealand rock bands. Here are five other bands from down south who have recently released albums every bit as good as—or better than—Hope Downs, and who any Rolling Blackouts fan should be listening to.
1. Dick Diver
Of all the recent Australian / New Zealand bands that wear their Go-Betweens influence on their sleeves, nobody does it better than Melbourne's Dick Diver. Their third album, 2015's Melbourne, Florida, is a modern pop masterpiece of jangly guitars and college radio hooks, simultaneously joyous and melancholic. If you like the pristine interplay of guitars found on Rolling Blackouts' albums, you need to pull Dick Diver up on your streaming app of choice immediately.
---
2. Twerps
Twerps are a bit more twee than Rolling Blackouts, but they're just as adept at pop hooks and unpretentiously emotive lyrics. The insistent repetition of a song like "Coast to Coast," from their 2011 self-titled debut, echoes the motorik chug found on certain Rolling Blackouts songs. Twerps are a bit more ragged and lo-fi, falling closer to the Clean side of the Aussie / New Zealand spectrum, but they're still mining the same general turf as Rolling Blackouts, and doing it just as well.
---
3. Salad Boys
It's kind of weird that there's only one band that's actually from New Zealand on this list, considering this entire scene owes a heavy debt to New Zealand's Flying Nun Records and the various bands that recorded for it in the 1980s. On songs like "Psych Slasher" and "Blown Up" the Salad Boys share the propulsive drive and rich guitars of Rolling Blackouts, charging ever forward into deeply satisfying pop territory, but with an almost metallic heaviness rarely found in bands like the Clean or the Chills. That edge might make them the best bet on this list to break out in America like Rolling Blackouts have.
---
4. Chook Race
Another Melbourne band, Chook Race's fast, shambolic pop often feels like it'll collapse in on itself if they slow down even a hair. The band writes fantastic guitar rave-ups with the low-key verve and charming modesty of the Bats, one of the legendary New Zealand bands that codified the Dunedin sound. A song like "Lost the Ghost," from Chook Race's 2016 LP Around the House, could easily fit on a Rolling Blackouts record with only a marginal boost in production quality.
---
5. The Stevens
The Stevens aren't as patient as Rolling Blackouts—on their two albums they constantly jump from idea to idea and song to song, often moving on after only a minute or so. Their songs rarely feel like fragments, though—they're all fully realized ideas, even if they only run for 70 seconds. That's obviously unlike Rolling Blackouts, who tend to explore their songs for three or four minutes. They both have that Flying Nun approach to guitar pop, though, with intricate and tuneful guitar interplay and matter-of-fact vocals that might sound resigned but rarely feel dejected.
---
These are just bands that operate in the same relative sphere as Rolling Blackouts Coastal Fever. Australia and New Zealand have been home to more great bands than anywhere else in the world over the last decade, and that's not restricted to just guitar pop. From the ominous synth-punk rumble of Total Control, to the gossamer pop of Totally Mild, to the soul-wrenching despair of Sarah Mary Chadwick, to the no-shits-given musical nihilism of Kitchen's Floor, the antipodean music scene is a multifaceted, ever-flourishing thing that all discerning music fans should be keeping an eye on.
---
Garrett Martin edits
Paste
's comedy and games sections. He's on Twitter @grmartin.