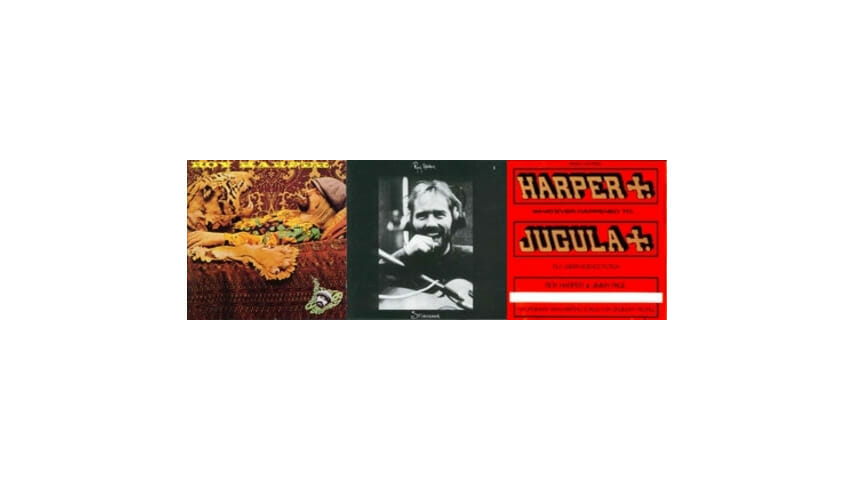 Flat Baroque And Berserk[63/100]
Stormcock [98/100]
Jugula (with Jimmy Page) [49/100]

Proto-freak-folker finally on CD in the States

With the ubiquity of Led Zeppelin and Pink Floyd, fellow U.K. guitarist Roy Harper may ring a bell. Zep took their hats off to his folk-guitar chops on III while Floyd had him belt "Have a Cigar" on Wish You Here. None of Harper's work has been available on CD in the U.S. until now, meaning a new generation of listeners can scratch their heads at why these legendary bands so revered this man.
The 1970 album Flat Baroque and Berserk reveals Harper's quirks. An opener about Judas Iscariot turns even more scabrous with overlong rant "I Hate The White Man." Insanely gifted, Harper sounds equally stoned and bored with folk, blues and rock. But "Another Day" flashes his quavering beauty, which fully blossomed on 1971's stunning Stormcock.
The lone precursor to Joanna Newsom's similarly expansive Ys, Stormcock is a folk-prog masterpiece. These four epic compositions deftly wrap Harper's divine guitar work and playful poetry around themes of love, hypocrisy, religion and war. A guitar duet with Jimmy Page is but one highlight on this stately yet understated classic.
Page and Harper teamed up again for 1985's Jugula. But those expecting a guitar meeting akin to their mesmeric "The Same Old Rock" will have their hopes dashed by the histrionic synthesizers and Harper's warbles on opener "Nineteen Forty-Eightish." The song "Advertisement" mashes giggles and Harper's admission "I'm really stoned" with gross digressions (including a bathroom break and vomiting). Maybe he shouldn't have smoked so much?