Run the Jewels' El-P Scored the Fantastic Four End Credits
Photo by Jason Kempin, Getty Images
Music
News
Run The Jewels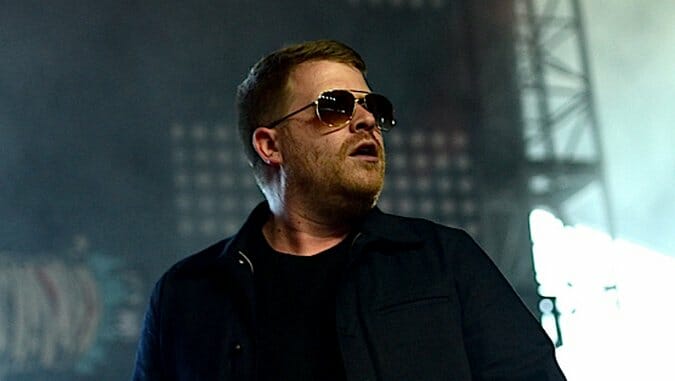 Music lovers have a new reason to be psyched about the forthcoming Fantastic Four reboot.
El-P, half of acclaimed hip-hop duo Run the Jewels, composed original music for the film's end credits, NME reports. Director Josh Trank (Chronicle) spilled the beans via Twitter over the weekend, prompting both an excited response and an official confirmation from the rapper:
One of my heroes, @therealelp, made a incredible instrumental piece for our end credits. I couldn't be any more excited. #elp#fantasticfour

— Josh Trank (@joshuatrank) July 11, 2015
.@joshuatrank oh shit cat out the bag!!

— el-p (@therealelp) July 11, 2015
yes, I scored the end credits for the new fantastic 4. thanks, @joshuatrank

— el-p (@therealelp) July 11, 2015
The "incredible instrumental piece" is an original production, rather than a track pulled from Run the Jewels' catalog, as El-P clarified for a curious fan:
.@rudyhimself@runjewels@joshuatrank i made a new piece for the movie.

— el-p (@therealelp) July 11, 2015
El-P also acknowledged that he had a little help from a friend—the Brooklyn-based producer Little Shalimar composing the piece:
also my brother @littleshalimar contributed to the fan 4 song. we worked hard on it.

— el-p (@therealelp) July 11, 2015
Lastly, as per Pitchfork, El-P shared his thoughts on the film itself in a pair of tweets that appear to have since been deleted:
also: I saw the new fan 4 like 5 months ago and it's fucking good. funny watching people be freaked out about it knowing this.
— el-p (@therealelp) July 11, 2015
put it to you this way: the new fan 4 makes the last fan 4 look like the fan 4 your little sister imagined when she was 4.
— el-p (@therealelp) July 11, 2015
Meanwhile, the rapper and producer's collaboration with Atlanta rapper Killer Mike continues—the duo's third album, Run the Jewels 3, is coming sometime in the (hopefully very) near future. If Run the Jewels' music industry success is any indication, this is unlikely to be the last time we hear an El-P beat at the movies. Flame on, El-P.
Fantastic Four hits theaters Aug. 7. Watch the official trailer below.