Rick and Morty Get Their Pulp Fiction on in Run The Jewels' Vivid "Oh Mama" Video
Images via Adult Swim/YouTube
Music
News
Run The Jewels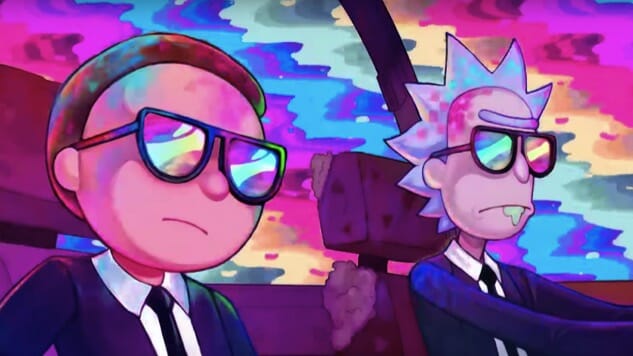 In a new combination of a few of our favorite things, Run The Jewels and Adult Swim have teamed up on the video for Run The Jewels 3 track "Oh Mama," starring none other than Rick and Morty's eponymous duo.
The dimension-hopping scientist and his dopey grandson do their best impression of a couple of Quentin Tarantino characters in the Juan Meza-León-directed animated video, right down to the sunglasses and suits. They travel to a Mos Eisley Cantina-like bar filled with aliens, unloading with ray guns and acquiring a mysterious, Pulp Fiction-esque briefcase, the contents of which they use to infiltrate another alien stronghold, laying waste to countless Gromflamites (who, fortunately, are only bureaucrats) and getting their hands on another enigmatic package, which we can only imagine contains The Jewels. It's a stylish, swaggering romp, exactly what you'd expect from the combination of RTJ and R&M.
This isn't the first time Run The Jewels and Rick and Morty have combined forces: The hip-hop duo and Adult Swim hit have a pop-cultural bromance of sorts, as first evidenced by their collaboration on a stylish "Rick the Jewels" hoodie released last summer. And that's not all they have in common: Ever since Rick and Morty's third season concluded last October, we've been waiting for the fourth installment. The exact same is true of Run The Jewels, who dropped RTJ3 on Christmas Eve 2016 and have since teased the next episode in only a single tweet.
Run The Jewels' new video arrives alongside the news that Killer Mike and El-P will headline the first-ever Adult Swim Festival, coming to downtown Los Angeles on Oct. 6-7. Other acts of both the musical and comedy varieties have yet to be announced. Find ticket info on the festival's website here, and watch the "Oh Mama" video below. You can watch full episodes of Rick and Morty right here and see our ranking of the most recent season here.