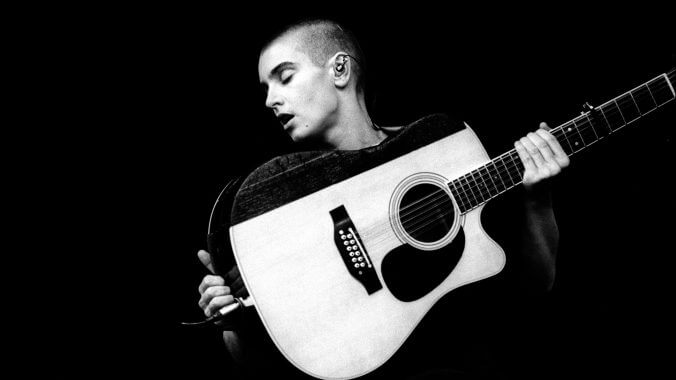 This afternoon, music fans all over the world were delivered the news that beloved Irish singer/songwriter Sinéad O'Connor has passed away at the age of 56. O'Connor rose to prominence on the heels of her 1990 cover of Prince's "Nothing Compares 2 U." The song would ascend to #1 on the Billboard Hot 100 and remained there for four consecutive weeks in April and May of that year. Billboard's Year-End chart slotted the hit at #3, behind Wilson Phillips' "Hold On" and Roxette's "It Must Have Been Love."
But O'Connor's legacy stretches far beyond the immediate success of "Nothing Compares 2 U." The singer was one of the loudest voices in human rights advocacy, as she fought against child abuse and organized religion and pushed anti-racism efforts. O'Connor also prioritized conversations around trauma, mental health and spirituality.
Not only is "Troy" one of the single greatest vocal performances in rock history, but O'Connor's songs "The Emperor's New Clothes," "I Am Stretched on Your Grave" and "Success Has Made a Failure of Our Home" have remained essential pieces of the alt-rock cannon 30 years on. Her sophomore album I Do Not Want What I Haven't Got was so good it has been long lauded as a definitive album of its era. And, to celebrate that record's enduring successes, O'Connor was awarded the inaugural Classic Irish Album award at the RTÉ Choice Music Awards earlier this year. After a standing ovation from the audience, O'Connor dedicated the award to "each and every member of Ireland's refugee community."
Seven Grammy nominations and endless global adoration can't possibly paint the full picture of O'Connor's life, legacy and impact. She was one of our greatest living souls, and her presence in this lifetime will be greatly missed. For more than three decades, Sinéad O'Connor used her platform to elevate marginalized voices outside of her own. Her passing is a tremendous loss not just for the music industry, but for humanity as well.