Sonic Youth to Sell Gear and Memorabilia from Throughout Their Career
In celebration of Daydream Nation's 30-year anniversary
Photo by Thos Robinson/Getty
Music
News
Sonic Youth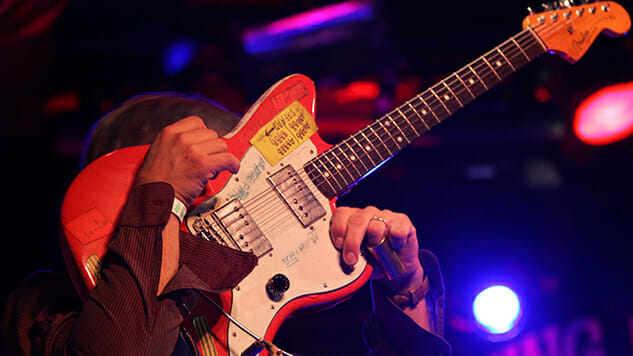 Sonic Youth have announced that they will be selling guitars, amps, memorabilia and more through a new partnership with the music gear marketplace Reverb.com. The partnership comes as a celebration of the 30-year anniversary of the band's magnum opus Daydream Nation, released in October of 1988.
The official Sonic Youth Reverb Store will launch on Oct. 30, and will feature equipment used by the band from as far back as on the Daydream Nation tour, and as recently as 2011. The shop will also feature "nearly 200 screen-printed show posters, rare poster-sized photographs, memorabilia, and personal relics from shows played throughout the band's career," according to a press release. Each item will come with a signed Certificate of Authenticity, too, so all you skeptics can sleep well knowing this is legit.
Among the pieces of equipment being sold are a few of the iconic Fender Jazzmasters that Thurston Moore and Lee Ranaldo used, a guitar that was stolen from Ranaldo in 1999 and subsequently bought back, and, of course, the band's signature effects pedals, without which their sound could not have been born.
Preview the equipment lineup via Reverb.com here, and while you're at it, check out a 1991 Sonic Youth performance from the Paste archives below.