Sturgill Simpson Announces New Album Sound & Fury, Releases Trailer for Samurai Anime of the Same Name
Photo by Semi Song
Music
News
Sturgill Simpson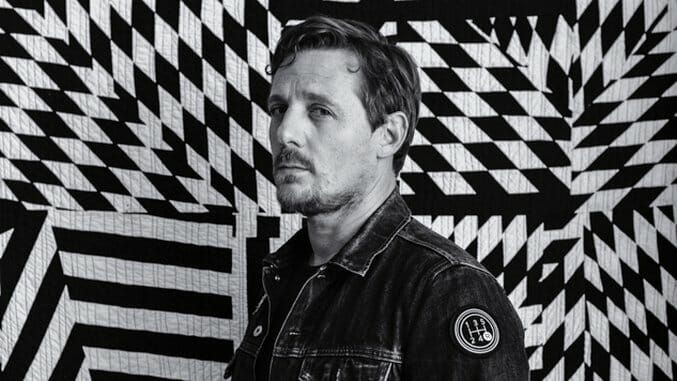 Metamodern alt-country star Sturgill Simpson continued his Hollywood hot streak by sharing a trailer for his forthcoming animated Netflix film, Sound & Fury, at this past weekend's San Diego Comic-Con, also announcing his new album of the same name—his first since 2016's A Sailor's Guide To Earth.
"We went in without any preconceived notions and came out with a really sleazy, steamy rock 'n' roll record. It's definitely my most psychedelic. And also my heaviest," says Simpson in a statement. "I had this idea that it'd be really cool to animate some of these songs, and we ended up with a futuristic, dystopian, post-apocalyptic, samurai film." Indeed, the trailer for Sound & Fury looks slick and thrilling, with clear debts to Akira, Paprika and the surreal car chase sequence at the end of Adolescence of Utena.
The gorgeous, cel-shaded CGI was handled by Japanese animation studio Kamikaze Douga, best known for helming the iconic opening credits for the anime Jojo's Bizarre Adventure. Simpson made sure to recruit the best of the best: Big names attached to the project include character designer Takashi Okazaki (creator of Afro Samurai), and directors Koji Morimoto (an animator on Akira) and Masaru Matsumoto (Starship Troopers: Traitors of Mars).
According to Simpson's panel at Comic-Con, Sound & Fury is structured like a visual album, with a short film sequence accompanying each original Sturgill song from his forthcoming album of the same name. So think Fantasia in a futuristic feudal Japan where motorbikes and shoguns exist in harmony. Fingers crossed that country will do for Sound & Fury what hip-hop does for Samurai Champloo, or jazz does for Cowboy Bebop.
The release of the film will cap a year full of surprising Hollywood crossovers for Simpson. He wrote and sang the theme song for Jim Jarmusch's zombie comedy The Dead Don't Die, and is set to play a small role in Lena Waithe's feature screenwriting debut Queen & Slim.
Watch the trailer for Sound & Fury, coming out this fall, and listen to Simpson's 2014 Daytrotter Session below.