Unreleased Sufjan Stevens Album Discovered in Dumpster
Images via Scott Wintrow/Getty, Reddit
Music
News
Sufjan Stevens
Dumpster diving suddenly sounds like a great new hobby.
Consequence of Sound reports that an anonymous Reddit user has happened upon a fascinating piece of Sufjan Stevens history ("happened upon" here meaning "dug through garbage for"): an album of unreleased songs by Stevens, titled Stalker.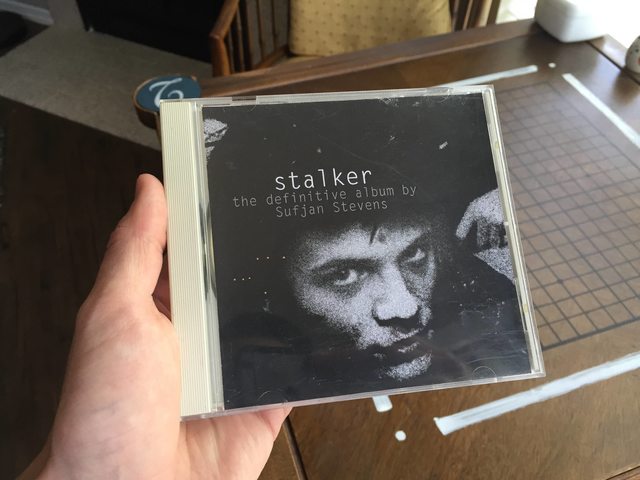 Amateur-looking liner notes reveal that the album was put together in 1998, which pegs it on the Sufjan timeline at two years before the release of his debut album. It was apparently supposed to be released via Asthmatic Kitty, the label Stevens co-founded with his stepfather. The liner notes also list the names for the album's 14 tracks, which follow the Stalker title quite literally. Among the most intriguing are: "I Know Where Your Kids Go To School," "U Kan Wrun But You Kan't Hyde" and "Loneliness Is a Warm Bun."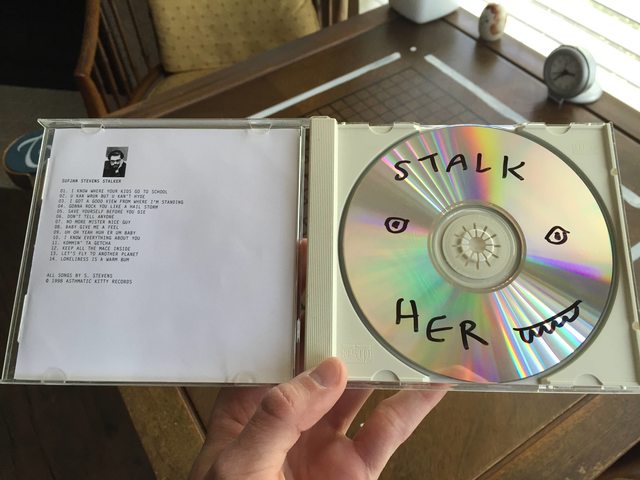 The discoverer of the strange specimen wrote that they used to work next to Stevens' studio in Brooklyn and decided to dig through the dumpster when the studio was undergoing renovation, having noticed that "a bunch of stuff" had been thrown in it. Reddit users on the Sufjan thread went crazy, with some saying that they had heard of the album, and one even pulling an interview from the cyber depths in which Stevens mentions he has written about stalkers.
Here's the exact quote (with the stalker mention bolded), via a 2006 Adequacy interview in which Stevens responds to the question, "how much does your faith influence your art?"):
Well, faith is art: the art of taking a big risk, I suppose — the art of making a big mistake and suffering the consequences. But logistically I suppose my process of making art is driven less by abstractions of faith or politics and more by practical theory: composition and balance and color. On an aesthetic level, faith and art are a dangerous match. Today, they can quickly lead to devotional artifice or didactic crap. This would summarize the Christian publishing world or the Christian music industry. If you are an artist of faith (a Methodist or a Jew), then you have the responsibility to manage the principles of your faith wisely lest they be reduced to stereotype, which is patronizing to the church and to the world, and, perhaps, to God. Consider what John Zorn has done for Jewish music. It's not so much that faith influences us as it lives in us. In every circumstance (giving a speech or tying my shoes), I am living and moving and being. This absolves me from ever making the embarrassing effort to gratify God (and the church) by imposing religious content on anything I do. I mean, I've written songs about stalkers. Is that any less religious than a song about an ordained pastor? No way.
An employee named John from Asthmatic Kitty also chimed in on the Reddit post, saying that the label (or those currently working there) had never heard of the album, and politely requesting that the finder keep the discovery to themselves, though he added that they wouldn't take legal action against it being shared. "As someone who's been privy over the years to unreleased music from several artists, I'd say you have received a special gift. You're hearing something only a few have ever heard. It's a rare honor," the employee wrote. "I would rather you not share someone's music without their permission; Sufjan or anyone else's."
We'll be keeping an ear out for any Stalker leaks that may occur, and in the meantime, find the tracklisting below.
Stalker Tracklist:
1. I Know Where Your Kids Go To School
2. U Kan Wrun But You Kan't Kyde
3. I Got A Good View From Where I'm Standing
4. Gonna Rock You Like A Hail Storm
5. Save Yourself Before You Die
6. Don't Tell Anyone
7. No More Mister Nice Guy
8. Baby Give Me A Feel
9. Uh Oh Yeah Huh Er Um Baby
10. I Know Everything About You
11. Kommin' Ta Getcha
12. Keep All The Mace Inside
13. Let's Fly To Another Planet
14. Loneliness Is A Warm Bum