SWMRS Are Back and "Berkeley's On Fire"
Images courtesy of Alice Baxley, Fueled By Ramen
Music
News
SWMRS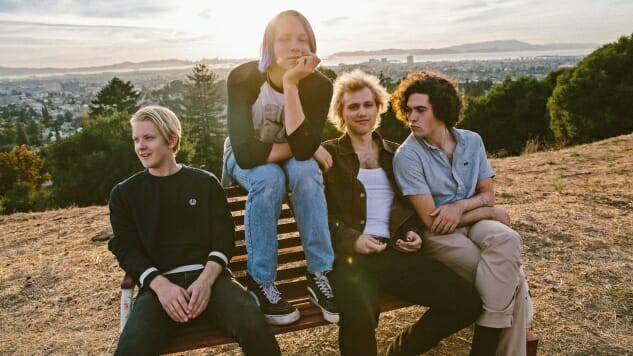 SWMRS evidently didn't mean they'd be right back with new music when they released "Brb" on their debut album Drive North (if you want the song's actual backstory though, guitarist/vocalist Max Becker gave some insights on Twitter last week). However, they are finally back with new music and with their social commentary wrapped in churning guitars, they drop some UC Berkeley history on their latest single, "Berkeley's On Fire." This is the first new music from the punk quartet since Drive North was released at the beginning of 2016 (re-released later that year on Fueled By Ramen).
Brothers Max and Cole Becker swap roles as lead vocalist, and on "Berkeley's On Fire," Cole's distinctive howl can be heard at the forefront. The members of SWMRS are known for being vocal about their political views on social media, but "Berkeley's On Fire" is the most overt political track they've released ("Palm Trees" is easily the most direct on Drive North, which, overall, isn't a particularly political album). The grinding guitars give the song a roiling anger and the agitation only increases in the chorus, where Cole's slippery lead vocals are swarmed with others to chant, "Berkeley's on fire. Your TV lies."
This track is the music you'd hope to get from SWMRS—a song that expresses their oft-shared frustrations with the political/social climate. "Too many motherfuckers confusing this freedom speech with swastikas," Cole rages, and Max jumps into the forefront for a moment to call out Milo Yiannopoulos. Yiannopoulos' planned speech at Berkeley last year was canceled when "150 masked agitators" showed up to an otherwise-peaceful protest to disrupt the event. The song harkens back further to Berkeley's history: The Free Speech Movement was led by students on campus in 1964 protesting a ban on on-campus political activities, and demanding their right to free speech and academic freedom. Even more of California seeps into the song with the surf-rock guitar solo.
"I wrote this song about the very strange feeling of participating in what the television was calling a riot, but looking around and seeing things much differently," Becker says. "While the video takes its jabs at the far right losers who showed up on [Berkeley's] campus that day to incite violence and infighting, we mostly tried to place the viewer in that same moment of being unsure of whether the world around you actually is falling apart, or if you're just tripping on your anxiety for the future."
The other visual provided is the song's artwork: "Berkeley's On Fire" and so is Sather Tower, as the song's cover art displays. Also called the Campanile, the campus building is the third-tallest bell and clock tower in the world, the university states.
SWMRS have a few tour dates currently scheduled for the end of the year, including Reading & Leeds later this month and Chicago's Riot Fest in September. Friday, the band announced the third installation of their one-day festival Uncool Halloween, set for Oct. 27 at The UC Theatre in Berkeley, Calif. The lineup includes a performance by Mt. Eddy, whose lineup includes Jakob Armstrong—the brother of SWMRS drummer Joey Armstrong (both sons of Green Day's Billie Joe)—who is acting as an extra guitarist on SWMRS' current EU/U.K. tour.
Watch the video for "Berkeley's On Fire" (directed by Stanley Kalu and Andrea Granera) below and check out a recording of "Figuring It Out" from the Paste archives, recorded around the time of Drive North's initial release, further down.