Taylor Swift Gender-Bends the Trajectory of Her Life in "The Man" Video
Images courtesy of Taylor Swift
Music
News
Taylor Swift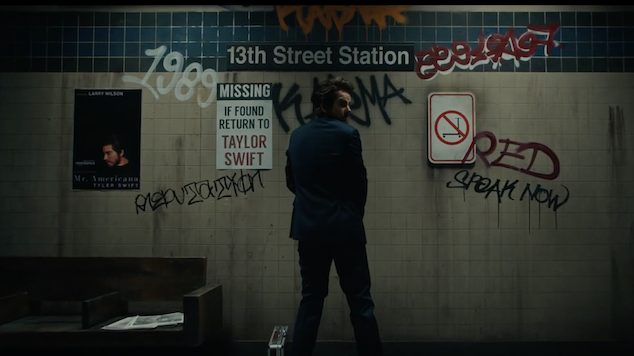 The Taylor Swift-directed music video for "The Man," a single from her 2019 album Lover, is a politically loaded statement from the pop star, who dons heavy prosthetic makeup that transforms her into the song's namesake.
The song's lyrics explicitly detail how Swift's life might be different if she was born as the opposite gender: "I'm so sick of running / As fast as I can / Wondering if I'd get there quicker / If I was a man."
The song is especially potent considering Swift's feud with Scooter Braun, who in 2018 became the sole owner of the master recordings for Swift's first six records after her former label, Big Machine Label Group, was sold to Braun's Ithaca Holdings. The feud then became public after Swift announced that she would re-record her first six albums in order to retain ownership under her new label, Universal, and rallied her fanbase to support her ahead of performances at the VMAs and the American Music Awards.
The feud is also not-so-subtly referenced in the music video, with a scene of Swift as The Man relieving himself while facing a wall in the 13th Street subway station with a "No Scooters" sign to his right, while graffiti of Swift's first six albums surround him on the wall, with a prominent "Missing: If Found Return to Taylor Swift" sign nearby. The man also concerningly pees a mercury-blue liquid, the stream of water spelling out "The Man" at the foot of where he once stood.
The end of the music video becomes more meta, as Swift's character walks off set to consult with the director, who is also Swift. Dwayne "The Rock" Johnson lends his voice to Swift's character, who is asked by director Swift: "Could you try to be sexier? Maybe more likable this time?"
The end credits also make a clear statement, making it clear that the music video is directed by Taylor Swift, written by Taylor Swift, owned by Taylor Swift and starring Taylor Swift.
The "The Man" music video is released almost a month after the Netflix documentary Miss Americana, which chronicles intimate details of Swift's everyday life.
Watch the music video for "The Man" below and find out where the track landed on our song-by-song ranking of Swift's entire discography right here.