Temples Deliver Lackluster Results with the Same Psych-Rock Formula
The British band's latest album is weighed down by simplistic songwriting devoid of their signature colorful hooks
Music
Reviews
Temples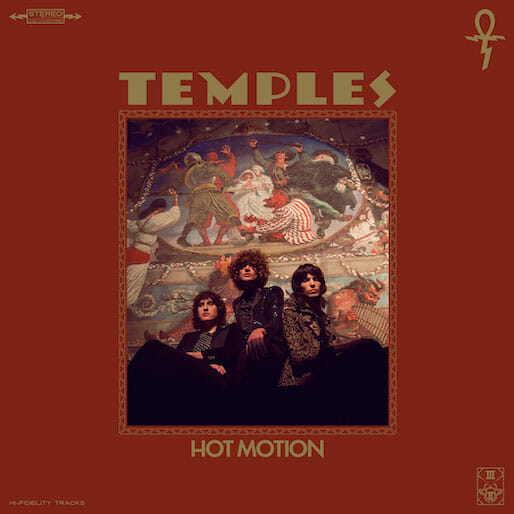 Still basking in the psychedelic glow of bands like MGMT and Animal Collective, the beginning of this decade brought on its own wave of psych rock revival groups. Led by bands like Tame Impala, Unknown Mortal Orchestra and Jagwar Ma, Temples emerged from the U.K., drawing upon Pink Floyd, The Beatles and Nuggets-era psych more blatantly than their peers. Their 2014 debut LP, Sun Structures, spurred a number of stomping indie hits like "Shelter Song," "Keep in the Dark" and "Colours To Life," all containing neo-psych motifs that were both engrossing and familiar. Their lyrics contained mythological imagery, their drums were distinctly thick, their riffs were bold and instantaneous and their frontman/producer James Bagshaw's British Invasion-meets-glam-rock coo could easily bewitch listeners. Their 2017 follow-up, Volcano, was solid, but it didn't stray too far from this formula, apart from a more noticeable emphasis on synths and a sound that was slightly less charred and hooky.
Fast forward to 2019, where it seems that with each subsequent year, critics seem less and less interested in classic rock revivalism, even though a large fanbase still remains. Bands like Greta Van Fleet and The Struts are some of the worst offenders—reflecting all the tackiness, unawareness and corporate sheen of rock and roll that many hoped would've just died out by now. But there are also many more palatable choices available like White Reaper, Sunflower Bean and Sheer Mag, all with much more credibility thanks to killer live shows, impressive studio releases and a sense that they aren't corny evangelists for rockism. Temples definitely fall into the latter of those two categories, but like many of those bands, any dip in quality is likely to drive away listeners who have more listening choices now than they've ever had.
Temples' third album, Hot Motion, sees them mount the exact same horse they have before, but with weaker hooks, melodies and riffs—essentially the bedrock of their appeal. The best Temples songs seem to check at least one of these boxes—a strong pop framework, deeply evocative or transportive melodies or an unforgettable riff. You'll have some trouble forgetting the tuneful pop of songs like "A Question Isn't Answered," "Roman God-Like Man" or "Keep in the Dark." But try remembering any cut from Hot Motion, apart from their three singles—the title track, "You're Either on Something" and "Context"—and you'll start scratching your head.
"Hot Motion" might overstay its welcome, but it delivers on Temples' strengths. Bagshaw's vocals flutter between hazy and smooth as he sings a creation myth while his bandmates' colorful, driving grooves chug along. While "Hot Motion" represents the surreal, charged rock from Sun Structures, "You're Either on Something" reflects the more relaxed pop of Volcano, though it too features the earth-shattering percussion and snappy refrains of their debut. "Context" has both the instrumental and melodic intrigue that you'd want in a Temples song with occasional flickers of baroque and glam pop. Unfortunately, once you pull back the curtain behind their three promo tracks, the cracks start to show.
The cheesy, simplistic chorus of "The Howl" is far below their capabilities, and possibly the least satisfying song they've ever released, coming off like a parody of a classic prog-psych tune. Even though Bagshaw has some memorable vocal moments on "Not Quite The Same," the chunky guitar riff that grounds the song is far too tedious.
This kind of nondescript wandering and ordinary chord progressions is where Hot Motion goes wrong. "Atomise" is a wash of blown-out guitars and though it feels grand, it doesn't actually take you anywhere. "It's All Coming Out" sounds tired and uninspired, and "Step Down" begins with a flash and a bang, but quickly deflates.
Hot Motion—the first Temples album without original drummer Sam Toms, a key piece of their luscious bombast and one of the bright spots on Sun Structures—is marred by undercooked songwriting. And when placed next to their characteristically cryptic lyrics about nature, seasons, space, time and love, it makes their vague words feel even more emotionally empty. The "Raise your head up / Stomp your feet" refrain in "The Howl" is particularly abysmal, and "Atomise" is comprised almost entirely of molecular gibberish: "Disassemble / Pull apart / Take it from the start / Manufacture / Synthesise / Right before your eyes."
Most of these songs feel like a collection of unused material from their last two album sessions that really should've just been scrapped. It all seems phoned-in and apart from the singles, the rest of the tracks shouldn't even suffice as b-sides. You'll find yourself returning to exactly three songs, and in a tracklist of 11, they're completely outgunned and overshadowed. Temples still have something special, dishing out charming, glam-laced psych-pop and writing earworm-y guitar riffs better than most, but if they're not willing to reinvent themselves, the least they could do is deliver a compelling album with their winning formula.