10 Years of The Antlers' Hospice, Indie Rock's Emotional Breakthrough Album for the Ages
Photo by Hana Tajima
Music
Features
The Antlers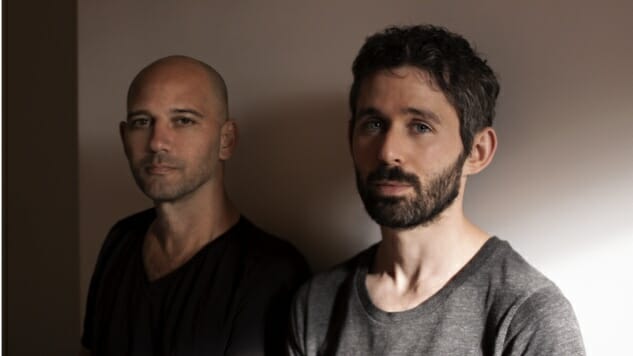 When Peter Silberman finished writing Hospice in the summer of 2008, he didn't expect anyone to hear it.
A pretty big reputable label, according to him, got their hands on the record, his third under the name The Antlers following two self-released albums, soon after its completion. Silberman, then playing with a band for the first time—The Antlers were, for all intents and purposes, a solo act up until this point—booked a tour on his own, which included a show in the city where the unnamed label was based, hoping to sign their first record deal.
The show didn't exactly go as planned and the imprint essentially lost all interest.
"I can't say that we were great at the time either," Silberman, the lead singer and lyricist of The Antlers, reminisces. "I wouldn't blame them. We were hoping that was going to happen and it didn't really have much of an audience. We thought it'd be our big break and it just didn't materialize. At the top of the next year, I was just feeling like, 'I need to get this record out somehow.'"
The product of an ultra-intense period of his life, Hospice is so personal of a record that Silberman never fully told the story about the abusive relationship the lyrics painstakingly describe through the guise of a hospice worker and a terminal female patient. While he initially pushed for a label to help promote the record, he never really assumed people would listen to it, that his deeply autobiographical stories, soundtracked by some of the most compelling whispers and crescendos in the history of indie rock, had an actual audience.
And initially, it didn't.
"We assembled these CDs ourselves, these digi-packs, we put them together ourselves and printed them ourselves and burned all of these CD-Rs and we announced—maybe we sent out to our mailing list and sent out to MP3 blogs at the time because that's how you did it back at the time in 2009—that we would put this out," Silberman explains. "We were selling everything through PayPal, packing and shipping ourselves. It was a very DIY operation. I was still sending out to blog and press contacts I had myself and I was putting tours together."
But then Hospice landed in the hands of Bob Boilen and Robin Hilton at NPR, and everything changed. Mind you, this was a period when music publications and blogs could still drive sales and create hype to a point that's completely unheard of 10 years later. So when Hilton wrote, "Frontman Peter Silberman is only 23, but has produced one of the most beautiful and moving works I've heard in a long, long time. Just astonishing," in a piece titled "2009 Already Better Than 2008" towards the end of February, 2009, it had a massive effect on The Antlers' trajectory.
"NPR got very excited about it and posted about it in a way that brought a lot of people to our pre-orders and a lot of people started ordering the record and we started feeling like, 'Oh wow, this kind of fell out of nowhere,'" Silberman says. "One after another, this started catching on and people started listening to it. We had at this point self released it and a few labels did come calling and I talked to them and we met with some folks and met with publicists and booking agents. We just hit the road and just stayed on the road while this was growing. It just continued to accelerate and we were rarely, if ever at home, and the shows were getting bigger. We entered into this new position. It really felt like word of mouth at the time. The people who liked it felt very strongly about it, and they felt like this was something that they really wanted other people to hear. There were plenty of people who were not into it who were like, 'This is not my thing,' but I think the people that liked it, it was an unusually strong bond they formed with it."
Similar to how masses of people grew attached to the brutally honest lyrics of Scott Hutchison's Frightened Rabbit across the Atlantic a year prior when The Midnight Organ Fight rapidly spread through a word-of-mouth campaign, The Antlers became a spiritual American counterpart of sorts as loads of listeners quickly latched onto the sweeping, complex, and authentically emotional themes of Hospice.
That sudden hype presented Silberman with a major challenge, one that influenced the trajectory for the rest of his career—how do you keep your sanity and privacy intact as your almost-too-honest work begins to gain traction? At what price does indie fame come with?
"I definitely took a step back after Hospice, and part of that was feeling what it was like to be that vulnerable in public, which wasn't something that had really crossed my mind with any reality when I made Hospice because I didn't really have an audience then," Silberman says. "It wasn't until Hospice caught on and there was an audience that I suddenly became aware of the kind of personal toll that laying yourself bare to a lot of people can take. I think that it was absolutely vital for what Hospice is and possibly how other people connected to it; it's vital that it be as raw as it is and explicitly personal."
That rawness Silberman mentions is what initially drew a passionate legion of fans to The Antlers' shows, leading them to sell 13,000 copies of Hospice by October 9th, 2009, only two months following the re-issue by Frenchkiss. The label, alongside a handful of others, heard the loud chatter amongst the Brooklyn indie-rock community and quickly signed them to give the record a proper release. The Hospice album campaign, which initially began in disappointment at not partnering up with a label prior to the self-release, kept exponentially growing with a new partner in Frenchkiss, never peaking at any point throughout 2009.
"I think on a certain dimension, my dreams were coming true and not only were they coming true, but they were being surpassed really quickly," Silberman remembers. "I set a pretty low bar for myself is what I came to realize as things began to actually take off. There was something really validating about that, going from no audience to kind of what felt like hysteria around that record at the time. It was very validating and it felt like it kind of turned that ugly situation that inspired the situation inside out. I think now is actually the happiest time of my life and what was happening back then was a succession of adrenaline rushes that felt really good, but were a total shock to my system and were invigorating but I wasn't prepared for them. I came to lose myself in that excitement for a while until I burnt out on the other side of it."
Though it wasn't the highly personal nature of Hospice's lyrics that contributed to that burn out—rather a combination of touring and the lifestyle that goes along with it—the sudden visibility and interest in the relationship that Silberman detailed throughout the record did push him to slightly sensor himself for future records, including its excellent follow up, Burst Apart, released in 2011.
"I think I became aware of the consequences of pulling details directly from your life and putting them in a story for the public to hear, for strangers to hear," Silberman explains. "My approach to writing started to change. Throughout songs and albums that followed Hospice, there are specific references in there, but they're kind of inside language for the people that they're written about. I think I also became aware of the temptation to include a lot of really specific details and think that that makes for a good story. There were times where I tried that and found that it didn't always call for that, that it didn't necessarily make a song better, and that it didn't necessarily make a story easier to understand. But with a story like Hospice, which is a lot about a kind of psychological fog and losing yourself and about the intricacies of a really dysfunctional relationship, I think the details are really important."
Ten years later, The Antlers are currently in the midst of their first tour since 2015, giving Hospice the 10 year anniversary treatment, playing the album in full as a duo, this time just Silberman and percussionist Michael Lerner, following a deluxe edition re-issue to mark the occasion earlier this month. Hitting their original launching spot, Brooklyn, for two nights this weekend, Silberman has recently begun revisiting the album that sent him into the upper echelon of bands at the peak of the indie-rock era, noting how far removed he is from his mindset when he wrote the complex and vivid story.
"I've been surprised to find that when I'm listening to it, it's not really putting me back in the events that brought it about—the relationship that the record is based on," Silberman explains. "I'm just kind of getting a picture of where my mind was like at the time, the way that I was experiencing the world and the way that I was interpreting the things that were happening to me. It's like reading old notebooks or something and it's funny to be at a removed perspective from it now and to be able to see that you're a long ways away from it. It's occurring to me now that the chorus of 'Bear' kind of applies here, this simultaneous feeling during making the record where I felt that I was very old and I had lived a lot of life at that point. To look back 10 years later and say, 'I was very young at the time when this happened' and just having the benefit of some time, it just makes it a surreal experience."
That chorus he refers to, "We're too old / We're not old at all," breaking up a starkly minimalist song with an explosive refrain, feels just as uplifting as it did 10 years ago upon its release. While revisiting Hospice, a revolutionarily raw rallying cry that propelled Silberman and The Antlers to indie stardom, is no doubt as odd of an experience as he lets on, it's also an interesting look back at how hype and word of mouth could push a band to unimaginable success. And 10 years later, Hospice is every bit as vital, emotional, and true as it was then, providing a gentle reminder why The Antlers reached the fame they did—owing completely to the story, the lyrics, and the instantly infectious melodies that drive the whole record, all leading up to one final falsetto scream.