Peter Jackson Is Directing a Beatles Documentary Featuring Unreleased Studio Footage
Photo by Express/Getty
Music
News
The Beatles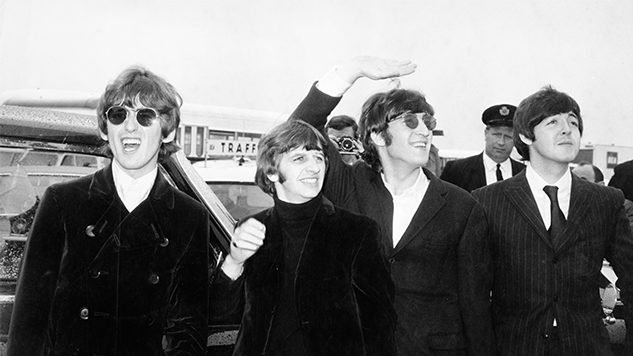 Peter Jackson is directing an as-yet-untitled Beatles documentary using 55 hours of never-released footage of the band in the studio recording their album Let It Be, according to a press release. The tape documents the legendary group's sessions between Jan. 2-31, 1969. Let It Be, their final studio album, was released in May 1970, by which time the band members had already parted ways.
All eyes were on The Beatles in the 1960s, but this is the only footage of note of the band actually working in the studio. These 55 hours were cut from the 1970 documentary Let It Be, directed by Michael Lindsay-Hogg, which follows the band throughout the creation of the album. Many have looked at the 1970 film as a look into the group dynamic that precipitated The Beatles' break-up. Jackson explained in a statement that upon watching the 55 hours of tape, he found more than just unaddressed tension:
After reviewing all the footage and audio that Michael Lindsay-Hogg shot 18 months before they broke up, it's simply an amazing historical treasure-trove. Sure, there's moments of drama—but none of the discord this project has long been associated with. Watching John, Paul, George, and Ringo work together, creating now-classic songs from scratch, is not only fascinating—it's funny, uplifting and surprisingly intimate.
The forthcoming film, produced by Apple Corps Ltd. and WingNut Films Ltd., will use the same techniques developed by Jackson for the World War I doc They Will Not Grow Old in order to restore the footage to superb condition.
Jackson added:
The 55 hours of never-before-seen footage and 140 hours of audio made available to us, ensures this movie will be the ultimate "fly on the wall" experience that Beatles fans have long dreamt about—it's like a time machine transports us back to 1969, and we get to sit in the studio watching these four friends make great music together.
The Beatles documentary currently has no release date, but is now in production.
And there's even more good news for Beatles super-fans: After the doc comes out, a restored version of the Let It Be movie directed by Lindsay-Hogg will be made available.