DAWN Returns with "Slim Thicc (feat. Trakgirl)" and "Ay Papi (feat. Brooke Candy)"
Photo by Monty Marsh
Music
News
the dawn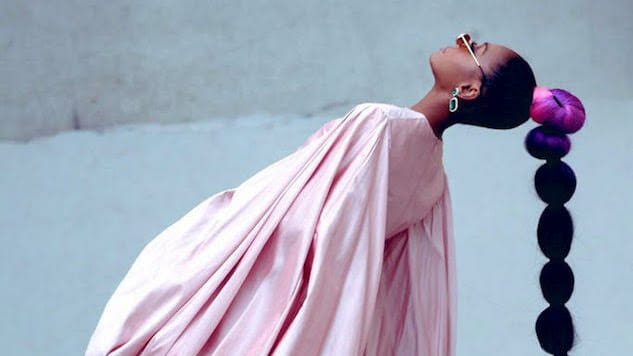 Early this year, R&B innovator DAWN (formerly Dawn Richard) released her fifth album, new breed. Fans had to wait three long years between her fourth effort, Redemption, and new breed, but this time around we've got new music just months later—and another full-length project set for spring of 2020. Today (Nov. 5), she's released two raunchy, pop-forward new singles: the infectious, dancehall-inspired "Slim Thicc" featuring rising producer Trakgirl (Jhene Aiko, Omarion), and "Ay Papi," an ode to a Spanish-speaking lover that's indebted to Latin pop and includes a saucy verse from rapper Brooke Candy.
The Monty Marsh-directed visual seamlessly pairs together shortened versions of both songs and recalls the simpler videos of a bygone era. DAWN and her backup dancers appear against a plain white backdrop, with occasional colorful bursts of animated visual effects. "Slim Thicc" is worth hearing in full: The bridge, which isn't featured in the video, adds another layer to DAWN's paean to the female form. She's not just desired—"Show me you want me," she demands of her male partner at the outset of the song—but she's got her own desires ("Girl, put that skin all on me," she croons).
"This series of singles marks the start of a new era," said DAWN in a statement. "new breed was the introduction to my roots. This era dives in each to each cultural influence specifically, highlighting all the pop influences I've experienced with cultural flare [sic]." These two tracks are her most radio-friendly yet, but they've got no shortage of concept.
Watch the "Slim Thicc (feat. Trakgirl) / Ay Papi (feat. Brooke Candy)" video and DAWN's 2018 Paste session below.