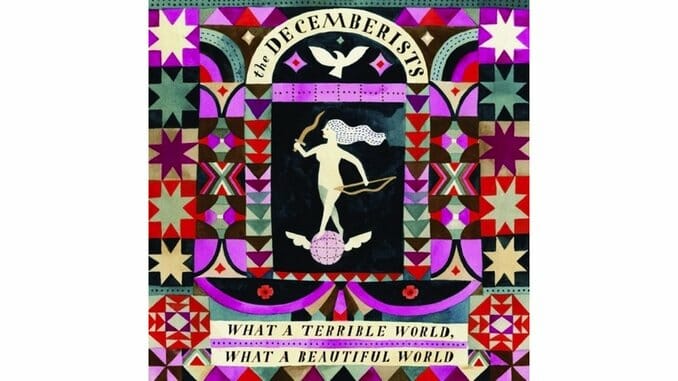 Colin Meloy's music has always been meant to be consumed from a literary perspective. The indie-folk demigod and frontman of The Decemberists even morphed into a YA novelist in the four years since the band's last release, The King is Dead. But it seems as if now, on the seventh LP by The Decemberists, What A Terrible World, What A Beautiful World, that Meloy has left the robust character development to the novels and instead focused on more general subjects, while building a new notion of Americana in the digital age.
On the album's opening song, "The Singer Addresses His Audience," Meloy's singer is not one we've come to know him to address. This singer is a modern lad, a pop star if you will, and much different from the Elizabethan rakes and scoundrels generally tackled in a Decemberists song. But it explodes into a grand chorus with a horn section and wicked guitar riffs that affirm that this is, indeed, The Decemberists.
While an overarching theme is largely absent on this album, it's instead filled with 14 stand-alone folk-pop songs that show their fluency in a multitude of pop genres and styles. The single "Make You Better" is Meloy and company at their best: Rhythmic guitars, perfectly punctuated drums, lush keys, a male/female harmony and a downright nasty guitar distortion that comes in out of nowhere. It's a wonderful track.
Classical guitars and drawn out piano melodies abound on the beautiful "Till The Water Is Long Gone," in contrast to safer, more pop endeavors like "The Wrong Year" and the big-band "Calvary Chapel."
Lyrically, Meloy can still dazzle with the imagery of innocence, like on "Lake Song," where he's channeling his 17-year-old self and remembering how the apple of his eye was "full and sweet as honeydew." But there are also overly simple lyrical moments, like on "Easy Come and Easy Go," which despite sounding like it could be part of the score of the next Tarantino film, leaves much to be desired with "know/go" and "Jack/back" rhyme schemes.
As the album progresses, it feels like the band doesn't have much to prove anymore and the effortlessly relaxing last three tracks are classic Decemberists indie-folk. Which brings up the greater point: Do The Decemberists really have anything to prove anymore? Any new material is just really just a passion project and a treat for fans of Meloy and the band. From the harmonica and kick drum of "12-17-12," to Meloy asking you to "condescend to calm this riot in your mind," on the album's excellent closer, "A Beginning Song," What A Terrible World, What A Beautiful World is another chapter in the already punctuated saga of one of rock's best modern lyricists and his talented band.