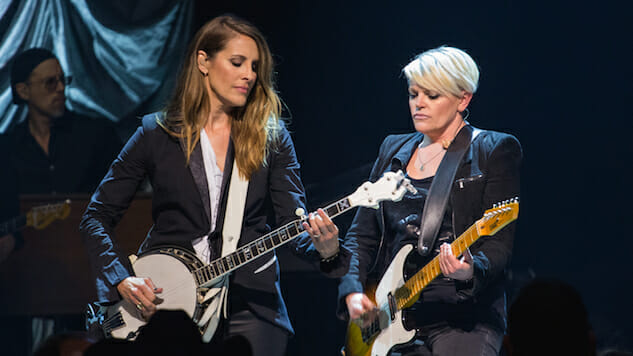 Did you know that the Dixie Chicks's latest album Taking the Long Way is 13 years old? Yes, 13—a pimple-speckled, bestselling, Grammy Award-winning teenager. Though the band has embarked on a number of extensive tours, released three live albums and performed alongside Beyonce at the 2016 CMAs since its release, they have yet to release another studio effort.
However—thanks to clever hinting from vocalist Natalie Maines, it looks like the band is finally back in the studio and getting closer to releasing their seventh studio album.
In an Instagram video annoyingly distorted by the baby filter, Maines and her counterparts announced "Dixie Chicks. Album. Coming," with none other than prolific producer Jack Antonoff popping up at the end and ending their sentence with, "someday."
This isn't the first time Maines has teased a forthcoming Dixie Chicks project. In June 2018, the vocalist posted an image of a keyboard from the inside of a studio, accompanied only by the caption "?" on Instagram, and soon began uploading images tagged with "#dxc2018." A photo posted in August confirmed the band was working with Antonoff.
As 2018 progressed, the band held off on officially confirming a new album, and soon the "#dxc2018" tag changed to "#dxc2019." So, finally—after a full year of anticipation and opaque teasers, the band have confirmed their new album is on the way.
A release date or general time frame has yet to be announced, but a source indicated to Variety that the band's studio comeback would more likely arrive in 2020 than later this year.
Well, if the former is true, we can expect the band to be in their element amid the backdrop of the 2020 election. They are political firestorm starters, after all.
Stay tuned for further updates on the band's new album. In the meantime, check out the band's official-unofficial announcement below, beneath Paste archival audio from a 2000 Dixie Chicks performance.