Let the Good Times B-Roll with Fruit Bats' "Gold Past Life" Video
Images via Annie Beedy, Merge/YouTube
Music
News
the fruit bats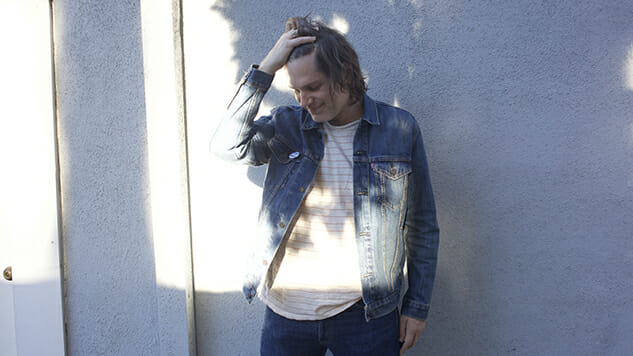 Chicago-based alt-folk band Fruit Bats have released a case study in B-roll for their newest single, "Gold Past Life."
At the center of the bizarre music video stands the proud proprietor of a mail-order stock footage company, who is aiming to sell selections from his catalogue by showing off his newest satisfied customers: Fruit Bats (who else could it possibly be?).
The proprietor's Sunset at Beach (with Zoom), Seasonal Bird in Oven and Desperate Businessman Discovers Future clips, and other assorted footage are scored by the band's easy, buoyant single, some of which include frontman Eric D. Johnson as The Drifter, Desperate Businessman and the Beach Bum.
The infomercial concludes with the B-roll salesman beaming in a cheap khaki suit—"Now that you know how B-roll can help your project, give us a call and let's make a deal!"
Sounds good enough for us, man.
"Gold Past Life" is the latest single from the band's seventh studio effort Gold Past Life, set to release June 21 via Merge Records. The album is the band's label debut, and you can preorder it here.
Check out the new music video, Fruit Bats's 2016 Paste Studio session, 2010 Daytrotter session and upcoming tour dates below.
Fruit Bats Tour Dates:
June
08 – Sonoma, Calif. @ Huichica Fest
21 – Santa Barbara, Calif. @ SOhO
22 – Los Angeles, Calif. @ Lodge Room
July
03 – San Luis Obispo, Calif. @ Madonna Inn Expo Center^
05 – Monterey, Calif. @ Golden State Theater^
06 – Jacksonville, Ore. @ Britt Festival Pavilion^
13 – Mount Salon, Va. @ Red Wing Roots Music Festival
25 – Carrboro, N.C. @ Cat's Cradle (MRG30) [SOLD OUT]
26 – Washington, D.C. @ Union Stage
27 – Brooklyn, N.Y. @ Music Hall of Williamsburg
August
01-04 – Happy Valley, Ore. @ Pickathon
08 – St. Paul, Minn. @ Turf Club
09 – Chicago, Ill. @ Thalia Hall
10 – Indianapolis, Ind. @ HiFi
11 – Lexington, Ky. @ Railbird Festival
September
20 – Salt Lake City, Utah @ State Room
21 – Ft. Collins, Colo. @ The Aggie
22 – Denver, Colo. @ Bluebird Theater
25 – Kansas City, Mo. @ Record Bar
26 – Oklahoma City, Okla. @ Pony Boy
27 – Houston, Texas @ Satellite
28 – Dallas, Texas @ Club Dada
29 – Austin, Texas @ 3Ten
October
02 – Phoenix, Ariz. @ Valley Bar
03 – San Diego, Calif. @ Casbah
04 – Felton, Calif. @ Don Quixote's
05 – San Francisco, Calif. @ The Chapel
06 – Boston, Mass. @ Sinclair
November
07 – Portsmouth, N.H. @ Press Room
08 – Burlington, Vt. @ Arts Riot
09 – Syracuse, N.Y. @ Wescott Theater
10 – Toronto, Ontario @ Horseshoe Tavern
13 – Ferndale, Mich. @ Otus Supply
15 – Birmingham, Ala. @ Saturn
16 – Nashville, Tenn. @ Exit In
17 – Atlanta, Ga. @ Terminal West
19 – Asheville, N.C. @ Mothlight
20 – Durham, N.C. @ Motorco
22 – Philadelphia, Pa. @ Boot & Saddle
(^ solo w/ Mandolin Orange)