Watch The Highwomen Make Their TV Debut on The Tonight Show
Photos by Andrew Lipovsky/NBC
Music
News
The Highwomen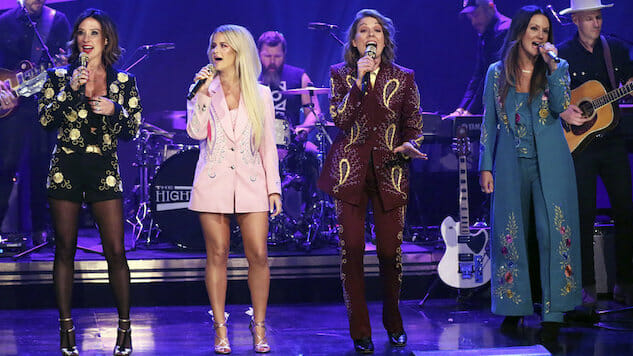 Not even two weeks after their debut, The Highwomen are taking the music industry by storm, and Tuesday night the group made their television debut on The Tonight Show Starring Jimmy Fallon.
Composed of Brandi Carlile, Maren Morris, Amanda Shires and Natalie Hemby, The Highwomen are the biggest supergroup in music at the moment, and rightly so. The group performed their two singles "Redesigning Women" and "Crowded Table" on the show, and, ultimately, showed just how fantastic they are.
Never trying to outshine one another, the Highwomen harmonized gloriously and shone as a group of talented, powerful women making their mark on music. Dressed in brightly colored rhinestone suits, the women each exuded their own personality, but also cohesively looked like a group. Otherwise, the band was backed by none other than Jason Isbell, who is Shires' husband. Isbell played guitar and sank into the background, giving all the attention to the wonderful ladies onstage.
The ladies recently headlined Newport Folk Festival after Carlile mysteriously brought the women out under a moniker on the lineup. Otherwise, Carlile brought out the legendary Dolly Parton for some duets between the two and The Highwomen. The world was also granted a breathtaking backstage clip of The Highwomen and Parton singing "Eagle When She Flies."
The Highwomen's debut self-titled album is due out Sept. 6 via Low Country Sound/Elektra Records. The two singles are the only taste of music from The Highwomen at the moment, but it can safely be assumed more singles will be released prior to the album's release.
Watch The Highwomen perform on The Tonight Show below, and revisit Carlile performing in the Paste office in 2010, followed by Shires' 2018 Paste Studio session.