Watch The Internet Convince You to Come Over on Fallon
Images via Andrew Lipovsky/NBC, NBC/YouTube
Music
News
the internet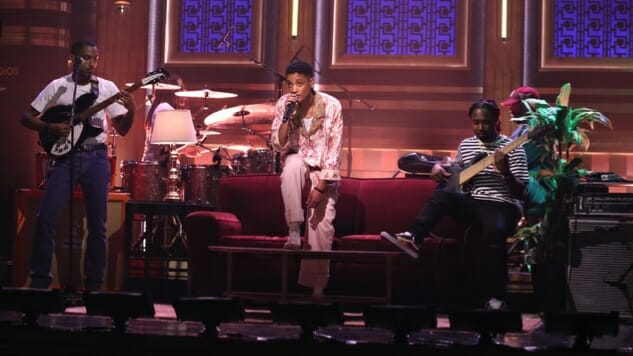 "Come Over," the lead single from The Internet's forthcoming album Hive Mind, is smooth and sultry as it evokes emotions everyone's felt before. Frontwoman Syd turns the old concept of puppy love into a colorful and bouncy R&B hit that feels like the first time anyone ever felt that emotion.
The band is now on the late-night circuit ahead of their album's July 20 release date. They hit The Tonight Show Starring Jimmy Fallon on Wednesday night to deliver a laidback performance of the song. The set reflects the suburban feel of the song's music video, with a couch and other miscellaneous furnishings to fill out the space.
Syd is so nonchalant as she moves between singing on the couch and on elevated surfaces that we'd go over in a heartbeat. And when Steve Lacy takes center stage for his killer solo, well, fellas, all we'll say is: Hide your ladies (or your fellas). Watch the performance below.