The Lemon Twigs Are Releasing an LP About a Chimp That Goes to School
Images courtesy of Olivia Bee, 4AD
Music
News
The Lemon Twigs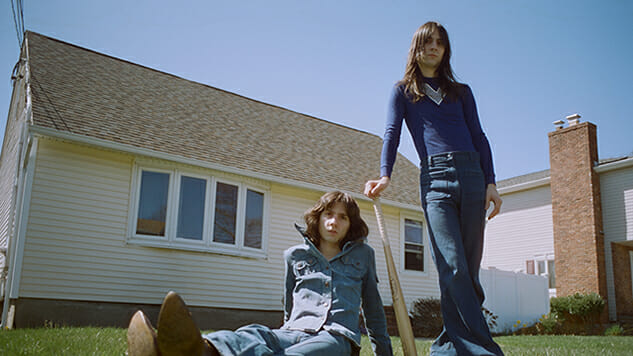 Brothers Brian and Michael D'Addario make up The Lemon Twigs, a rock 'n' roll band with glam-pop stylings. The D'Addarios keep it interesting by mixing garage and psych rock with theatrical arrangements that earned them nods from older artists like Elton John. The duo signed to 4AD in 2015 and released their debut album Do Hollywood while they were still in their teens.
The Lemon Twigs have teased their sophomore follow-up for quite some time now, telling Todd Rundgren of Interview Magazine that they were writing a concept album about a monkey that goes to school. Well, that LP is officially on its way and over the course of 15 tracks, Go To School "tells the heartbreaking coming of age story of Shane, a pure of heart chimpanzee raised as a human boy as he comes to terms with the obstacles of life," (anyone else remember the Cartoon Network show My Gym Partner's A Monkey?) per a press release. They enlisted Rundgren and their own mother Susan Hall to play the parts of Shane's parents, and the album (or musical, as the band's announcement terms it) will feature contributions from their father, fellow musician Ronnie D'Addario, and Jody Stephens of Big Star.
In addition to announcing the album, due out on August 24 via 4AD, the band has also shared its first single, "If You Give Enough." You can listen to it below, and see the Go To School tracklist and album art further down. The Lemon Twigs are on tour this summer and will be joining Arctic Monkeys for some dates in the fall—see those here.
Go To School Tracklist:
01. Never In My Arms, Always In My Heart
02. The Student Becomes The Teacher
03. Rock Dreams
04. The Lesson
05. Small Victories
06. Wonderin' Ways
07. The Bully
08. Lonely
09. Queen Of My School
10. Never Know
11. Born Wrong/Heart Song
12. The Fire
13. Home of a Heart (The Woods)
14. This Is My Tree
15. If You Give Enough
Go To School Album Art: