The Nude Party Have Moved Beyond Their Garage-Rock Party-Band Origins
A Curmudgeon Column
The Nude Party (from left): Alex Castillo, Connor Mikita, Patton Magee, Shaun Couture, Jon "Catfish" Delorme, Austin Brose, Zachary Merrill; photo by Clark Hodgin
Music
Features
The Nude Party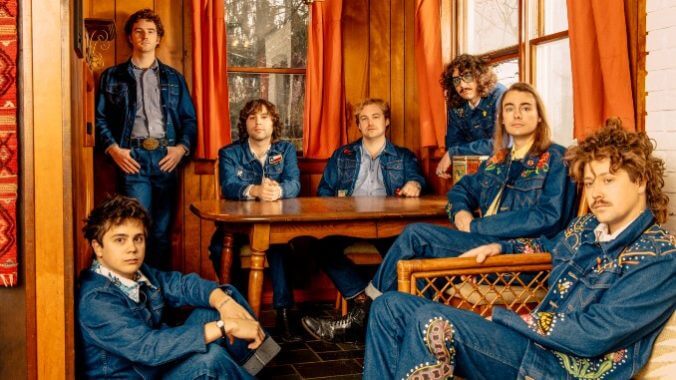 Like comic-book heroes, every rock 'n' roll band has an origin story. But few of those stories are as vivid as the origin of the Nude Party, a septet whose beginnings are embedded in its very name. When the six original members were students at Appalachian State University in Boone, North Carolina, they became the house band at a private club where both the audience and musicians wore no clothing. People referred to them as the "nude party band," and the name stuck.
As creation myths go, that one's hard to beat. But what's most interesting about this band, which last week released its third full-length album, The Nude Party Rides On, is how far they've moved beyond their start as a garage-rock party band. They've haven't lost that early energy and irreverent wit, but they've added a musical and lyrical ambition that makes them one of the best under-30 rock bands around.
Those ambitions are stated clearly in "Tell Em," the key song on the new album. It begins, revealingly, with a collision of urban and rural sounds, as Shaun Couture's streetwise, stiletto guitar stabs into Patton Magee's pastoral, Americana strumming. Soon Magee's nasal tenor is singing, "Daddy told me, 'Don't lose your way. When you go singing a song, have something to say…. Tell 'em all the good times; tell 'em all the bad times too.'"
The Daddy's-advice-song is a staple in country music, but here the Nude Party roughens it up in a less sentimental, bare-bones-rock way. And yet the chorus boasts a hooky melody fleshed out by the band's "oohs." The duet between Couture's guitar and Zachary "Don" Merrill's electric piano never hurries, but relaxes into a different kind of country-rock, one that combines old-school country with gritty, downtown rock.
"It's important to talk to people about both the good and the bad," Magee says over the phone from the Bronx after a radio interview, "not just as a musician but also as a human being. Recently my dad was talking about being around some very wealthy folks and how it was like they had this protective film around them, as if they could only talk about things going well, about how successful they were. That makes for a pretty vapid conversation, and when he tried to have a real conversation with them, he caught them off guard."
The Nude Party has a history of catching people off guard. If audiences are expecting the fun and funny music implied by the band's name, they're surprised by the brittle chords or droning counterpoint of the Velvet Underground-inspired guitars and by the bite of the lyrics' satire. There are more such surprises on the new album, which tackles hypocritical lovers, class divisions, loneliness, looming mortality, nuclear war and political violence—usually in the context of loose and catchy rock 'n' roll.
"I think something's changing with audiences," Magee asserts. "A lot of young people are moving away from party music and getting into very emotional acts, low key and vulnerable, those sad-girl artists, for lack of a better term. This is the first time I've ever witnessed that. It's a lot more interesting when you look into the shadows; you connect more deeply when you do that."
It helps that the Nude Party is genuinely interested in taking older music and repurposing it for our own time. The one non-original on the new album is Dr. John's "Somebody Tryin' To Hoodoo Me." Magee found it on a collection of early, rare recordings by the New Orleans legend and based the Nude Party version on that, not on the more popular version, titled "I Been Hoodood," on Dr. John's In the Right Place album.
Similarly, when trying to write lyrics to a Merrill chord pattern, Magee reached back to the obscure Bob Dylan song, "Hard Times in New York Town," which was itself based on the Bentley Boys' 1927 recording, "Hard Times on Penny's Farm" (also the source for "Maggie's Farm"). This adaptation became the album's latest radio track, "Hard Times." Another new song, "Tree of Love," name-drops the Byrds' "Eight Miles High" and the old African-American spiritual "Down by the Riverside."
"Mixing the old and new is the natural good place to be," Magee says, "but we're not trying to recreate or copy anything. You don't hear us and think we're the Rolling Stones. Online people say we're just copying the Stones, Lou Reed, Dylan and the Kinks. If you're copying all those people at the same time, you're not really copying anyone, are you?
"I like what I like, but I want to live in the now. I want our records to sound like today's productions, so they don't sound out of place on the radio. I DJ in the city sometimes, and I notice when you switch from a Hall & Oates song to the Beatles' 'Twist and Shout,' something gets lost in the production. Those old records just didn't have enough low end."
The Nude Party never sounds just like the records they love because they have a signature sound of their own—the result of combining unlikely ingredients. Couture's sharp-edged guitar licks rub against Magee's more rounded country-folk melodies. Percussionists Connor Mikita and Austin Brose push and pull at each other. Merrill's bleating electric organ counters Alex Castillo's punchy, melodic bass lines.
"Alex is a great bass player who tends to teeter-totter between the melodic and the rhythmic," says Couture. "But he also knows when to be simple. One song that shows off his bass playing is 'Tree of Love.' The bass line is almost a hook in itself, but it also has a sick downbeat that keeps the time. He didn't play bass before we started the band, and that gave him a style of his own. He gravitated to those swampy bass lines, but he was already tuned into melody. You can hear that on that swampy, Band-inspired tune, 'Tell Em.'"
Jon "Catfish" Delorme was not part of the original North Carolina lineup, but when it came time to record the debut album, The Nude Party, several tunes had a country flavor that just begged for pedal steel guitar.
"A few of us were really into country music," adds Couture, "and we loved the sound of the pedal steel. Through a friend, we found John, and he came into the studio to play on the song 'Records.' He added a whole different timbre, a sonic glue. Don's Farfisa organ is pretty mid-rangy, and the steel is almost like a vocal. They just melted together. From the first time we were in the studio, we hit it off as friends, and the sound became an integral part of our sound. The friendship and the sound grew alongside each other, and he became a member of the band."
"Records" is a really funny song that hints at something deeper. It's a breakup song that finds Magee arguing with his ex about splitting up their belongings. "I don't need your affection," he sings; "all I need is my bootleg collection." It's a clever kiss-off, but it's also a measure of how much value the band puts on music, how it can be as important as romantic love itself.
There's a similar dynamic in "Chevrolet Van," also from that first record. This time the narrator is "an older relative," who says, 'I dig what you do, but I think you're wasting your time. Because driving around, getting drunk with your friends in a van every night sounds like a lotta fun, but you need a Plan B…. You're gonna wake up someday and you'll wish you got a job."
It's funny because every aspiring musician, actor, activist or freelance journalist has heard this speech. It's funny because it's set to a jaunty, raucous, sing-along melody. But mostly it's funny not because the advice is wrong-headed but because it's so reasonable. And yet you know the kid is going to ignore it.
The inspiration came from a letter that Magee's brother received from their grandfather while the brother was backpacking in Asia. As he and his bandmates graduated from Appalachian State in 2017, they heard similar advice and had to decide whether to take it or not. They decided to be unreasonable and pursue the rock 'n' roll dream.
"I had no back-up plan," Magee says. "I still don't. This is what I want to do. As a band we've been blessed with not being terribly successful. Some bands blow up with the first thing they do, and they become crystalized in that form. We've been able to evolve more gradually. We've been able to grow the music as much as the career. As things get progressively better, we have our legs under us."
"We've been lucky," Couture adds. "When we started the band, we didn't really know how to play our instruments. We learned them to play together. It wasn't like we had preconceived notions of how to play and how to write songs. We toured a lot and our chops grew and grew. Just becoming better players allows you to think about chord changes and rhythms. Life happens; you grow up, and that made us want to dig deeper with the music and the lyrics. We started out as a garage-rock band, but we're becoming more than that."
After touring really hard after the debut album, Covid hit town and the Nude Party didn't tour at all behind the second album, 2000's Midnight Manor. "After spending all our time together for a bunch of years," Magee says, "suddenly we weren't spending much time together at all. We learned what it was like to not be in a band, but when we reunited for the new album, we all knew we really wanted to be in a band."
That epiphany inspired the new record's title track, "Ride On." It opens with the odd juxtaposition of lilting, Brill Building harmonies pitted against harsh, rock-noir guitars. Even odder are the lyrics, which have Magee singing about an old Mexican cowboy who keeps riding even though his youth is long behind him. When people ask him why, he replies, "Guess I'm gonna die anyway, and I like coming here every day to ride." In the third verse, the narrator faces a similar question: "Why you wanna play rock 'n' roll? You get a dollar to pay a two-dollar toll." Magee answers, "I'd rather die than be another what if."
At several points in their career, the band has been rescued from "what if" by better known musicians. Both Jack White and the Arctic Monkeys invited them along as the opening act on their tours. But before that, the Nude Party got crucial help from Southeastern indie-rock bands the Growlers and the Shine Brothers, who also invited them to open shows. Oakley Munson, drummer for the Shine Brothers and later for the Black Lips, even invited the newly graduated members of the Nude Party to move up to his house in upstate New York's Catskill Mountains. He also produced the band's first two albums.
The band enjoyed the studio, but they were frustrated that their budgets made them feel rushed by the ticking clock. Because their budgets were unlikely to increase, the only other solution was to build their own studio. And that's just what they did at Munson's home in Livingston Manor, New York. They could afford to create the room, but they didn't have the money to fill it with equipment. Serendipitously, they met the Tampa-based engineer, Matthew Horner, who had the gear but no studio to put it in. A deal was quickly struck, and Horner engineered the new album with his vintage equipment.
With Munson's blessing (and occasional backing vocal), the Nude Party decided to produce their third album themselves. Enjoying the luxury of working without a clock, they spent more time honing the arrangements. Sometimes that meant adding parts, but just as often it meant subtracting them.
"On the two previous records we had limited time," Couture says, "which was both a blessing and a curse. I'm a fan of just pushing a button and capturing a moment in time. But I also like taking our time to work on sounds. And we also had time to take sounds out. In the past, all of us played all the time, because we had instruments in our hands and we thought that's what they're for. But we realized that the songs might sound better if they could breathe a little. Maybe that tambourine shouldn't be there; maybe I shouldn't play that guitar part during the vocal."
And maybe the narrator of the song shouldn't always be the singer. Maybe it's okay for the narrator to be a corrupt U.S. President ready to start World War III, as on "Red Rocket Ride." Or maybe the narrator could be a creepy guy who's blaming a girlfriend for sleeping around, even though he's been doing the same, as on "Word Gets Around" and "Polly Anne." Or maybe the narrator could be a rural kid whose mind is blown when he sees a girl walking out of the wheat field in white-laced, cherry red, knee-high boots, as on "Cherry Red Boots."
"Not all narrators are trustworthy," Magee admits. "None of the narrators in these songs are really me; there's always some imagination added. The 'I' is a very situational thing, because it's defined by its relationship to a 'you.' The 'I' talking to you on the phone is different from the 'I' talking on the phone to my mom or my partner. It's always better to be aware of that, not just in a song but in every aspect of your life."