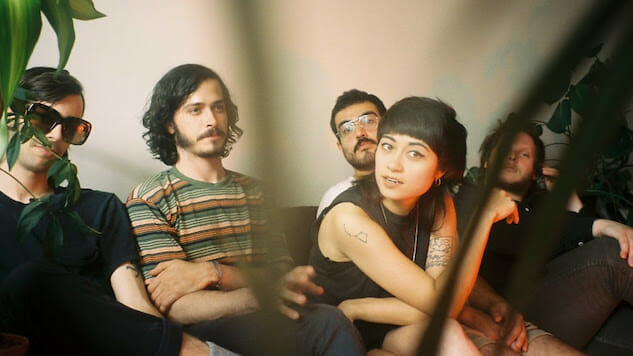 Daily Dose is your daily source for the song you absolutely, positively need to hear every day. Curated by the Paste Music Team.
Philadelphia rockers The Spirit of the Beehive are releasing their third full-length record, Hypnic Jerks, this Friday, Sept. 14, via Tiny Engines. The follow-up to last year's Pleasure Suck, Hypnic Jerks is named for the involuntary spasms that occur as someone drifts off to sleep, according to a press release. Listening to their music, however, evokes a contrasting sensation: Their spirited rock is more likely to grab your attention, rather than induce yawning. Another of those lively tunes arrived Tuesday, the third single and title track from Hypnic Jerks. You can hear it below.
"Hypnic Jerks" is a twisting path of disjointed, choppy guitar and thrashing drums. The song takes on several different lifeforms as the path winds, though—the first 10 seconds sound nothing like the last 10. The lyric delivery is delightfully deadpan, the synth lines are live wires and the bridge is an explosion of unexpected sounds. "Hypnic Jerks" sounds a bit like an indie-rock science experiment, but one that yields a satisfactory ooze.
Again, you can listen to "Hypnic Jerks" below. The Spirit of the Beehive kick off a tour with Pile on Oct. 2. You can find all the dates further down.
The Spirit of the Beehive Tour Dates:
October
02 – Easthampton, Mass. @ The Flywheel
03 – Rochester, N.Y. @ Small World Books
04 – Toronto, Ontario @ The Garrison
05 – Kalamazoo, Mich. @ Bell's Eccentric Cafe
06 – Chicago, Ill. @ Subterranean
07 – St. Louis, Mo. @ Duck Room at Blueberry Hill
09 – Denton, Texas @ Dan's Silverleaf
10 – Austin, Texas @ Barracuda
11 – New Orleans, La. @Gasa Gasa
12 – Nashville, Tenn. @ The East Room
13 – Atlanta, Ga. @ The Masquerade – Purgatory
14 – Durham, N.C. @ The Pinhook
16 – Richmond, Va. @ Strange Matter
17 – Washington, D.C. @ DC9
18 – Philadelphia, Pa. @ First Unitarian Church
19 – Brooklyn, N.Y. @ Saint Vitus
25 – Cambridge, Mass. @ The Sinclair