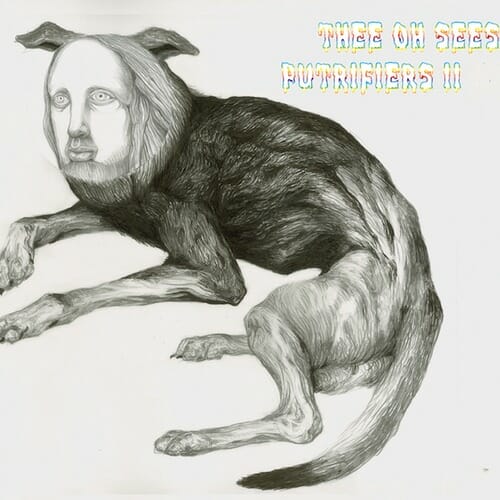 Garage rock is in the same dire straits as electro-pop, or any other genre that's been lapped up by music writers over the past decade. Bands are a dime a dozen. And, in the case of most garage rock revivalists, personality has given way to how much echo and reverb one can slather over the vocals.
San Francisco has become quite the hotbed of rock in its own right with bands like Ty Segall, Sic Alps and Thee Oh Sees shaking more action than the San Andreas Fault. But where many bands continue to color within the lines, these S.F. crews are stretching the ramshackle pop of The Seeds and Moby Grape into exciting new forms.
Oh Sees frontman John Dwyer has become the patriarch of sorts, going back to the late-'90s and early-aughts with psych noisemakers Pink and Brown and the Coachwhips. Even within Thee Oh Sees' prolific 14-album catalog he's remained mercurial in the best possible way. Then again, when you average two albums per year as Thee Oh Sees have since 2007, it's good to shake things up a bit. On their latest LP Putrifiers II, Dwyer and company mellow their harsh, opting for warmer production in place of the paint-peeling live feel of 2011's Carrion Crawler/The Dream. It makes even the record's rowdiest songs, "Flood's New Light" and manic opener "Wax Face," feel warm and fuzzy.
The rest of Putrifiers II (by the way, there is no Putrifiers I) is almost Zen-like by comparison. Not a bad thing. "Hang a Picture" and "Goodnight Baby" are incredibly sweet and beautiful pop songs, while the chill of "So Nice" is warmed by the hum of cellos and violins. "Lupine Dominus" continues Dwyer's love for Can, as guitars and organ whiz in and out of the song's motorik beat. It's one of the few moments on the record where things come unhinged.
Dwyer has always allowed room for experimentation—especially live. And while there are moments of unrest on Putrifiers II, the true experiment is in the restraint Thee Oh Sees show throughout. Every note has its place, none more evident than on the title track and album centerpiece, whose haunting drone finally gives way to a swift rock and roll chorus. It's a testament to Dwyer's ability to make pop music that is potent and dramatic.
If it sounds like Thee Oh Sees have matured, you'd be right. Growing up can be a band's death knell, but it's good to see Thee Oh Sees are embracing it. Then again, just getting to this point in this day and age speaks volumes.