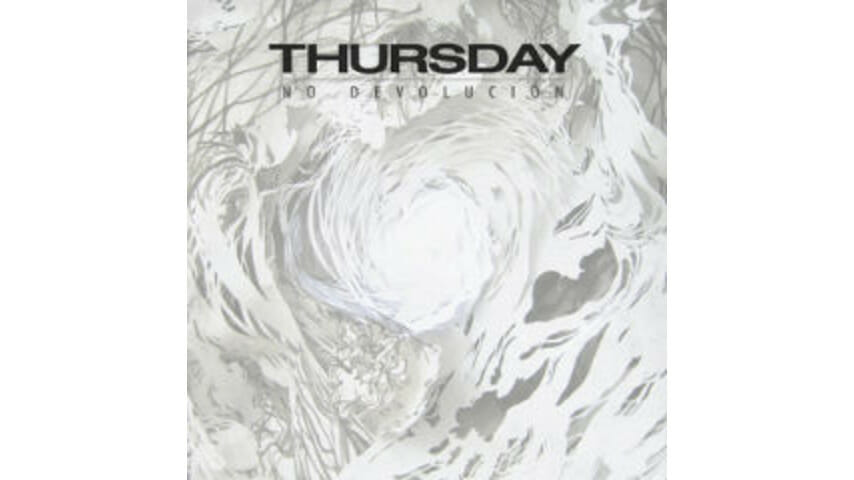 Through a megaphone of enveloping reverb, Thursday frontman Geoff Rickly kick-starts his veteran band's excellent new album with a strangely spacey chorus: "Ice crystals on the windscreen / You're in the pilot's chair." Wicked stuff, man. Especially for Thursday, who have been, prior to 2011, the world's finest (and least annoying) hardcore band.
On No Devolución, album number six, Rickly and company decide to (finally) unleash their inner art-rock nerds. Working for the third time with producer David Fridmann, veteran studio god associated with legends like The Flaming Lips and Mercury Rev, Thursday have arrived at a group of tracks that properly suit The Maestro's psych-rock expertise. Atmosphere is crucial — 3D synth serves as the foundation for the glowing space flight of "Answers;" distortion is displaced, delayed guitars serving as window dressing for Rickly's pot-boiling vocal.
Talk about a sea change; this is a reinvention from top to bottom. Rickly, more often than not, favors actual melodic singing, instead of the hormonal yelping of yore. (That din echoing in the distance would be the simultaneous shattering of screamo hearts across the country.) But Rickly went the extra mile in his transformation; perhaps in order to get in the most perfectly pretentious mindset possible, he overdubbed some of his parts in the middle of a nearby forest. (Come on, it's way more "mystical" than singing in some lame-ass studio booth.) It's easy to poke fun, but this is some spooky, sensual, off-putting shit. At times, it's tough not to get a little sentimental and long for a little of Rickly's trademark bloodletting — in the emo scene, nobody else treats a gut-wrenching shriek like such fine art. But dude's in a newer, more exciting, headspace. And who knew the guy could sing like this? Throughout, he demonstrates a remarkable restraint: putting mood first and utilizing his voice as another instrument in the band's tornado swirl of expansion.
"Sparks Against the Sun" is nearly as epic as its title, fuzz bass firing shots on a glacial battlefield of grand piano, synth, and two-ton reverb. And it's Rickly, in all his naked, honest beauty, who keeps the song — like the rest of this brave, adventurous album —from vanishing into permanent orbit. Instead of just beating around the prog-rock bush, Thursday now embrace their artsier unknown.