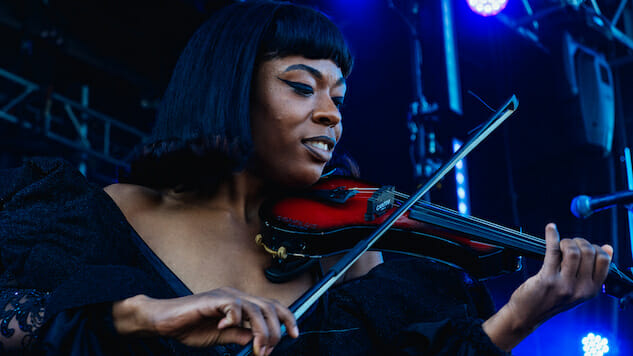 "Treefort is for everyone." That's the tagline supporting the Treefort Music Fest, which this past weekend (March 20-24) took over downtown Boise, Idaho for its eighth consecutive year. That phrase may sound like PR schmaltz, but it really is the creed by which every Treefort-er lives. The positive-vibes-only music and arts event welcomes everyone—from artists from as far as Japan to Treefort veterans and Boise natives Built to Spill to a Paste writer from all the way in Atlanta, Ga.—with open arms and ensures amiability throughout the long weekend: Tall people gladly stepped aside so short people could see in the crowded venues; parents plopped earmuffs on their kids' heads and toted them to the main stage; every volunteer, bartender and even dog seemed to wear a grin. There's no space or tolerance for foul moods at Treefort, where the music is good and the people are great.
The festival is modeled after South By Southwest, in which artists play short sets at venues spread throughout the city. We saw bands play everywhere from basement bars and coffee shops to the local El Korah Shrine community center and Boise Contemporary Theater. Below, we've compiled 10 of our favorite acts—some new and some already familiar—who put on great shows at Treefort. With more than 400 bands showcasing at the festival, there's no way we could highlight them all—but we also loved Whitney Ballen, Super Sparkle, Be Forest, Rituals of Mine and Mike Krol. Whether or not you made it out to Boise this year, give these artists a listen, and start researching plane tickets for March 2020.
1. Ava Luna
Members of New York City's Ava Luna, one of the artists we were most excited to see at Treefort, have described the band as being "more of a 'place' than anything else," and this weekend I was transported there. Ava Luna's otherworldly dance tunes don't align with any established sound or genre. While the group relies on rock, calypso, disco, jazz, R&B and a wealth of other styles, their urban jams transcend labels. Ethan Bassford, Felicia Douglass, Julian Fader, Carlos Hernandez and Becca Kauffman have unbeatable chemistry on stage, and their eerie vocal effects, groovy moves and clean beats inspired camaraderie in the crowd, too.
2. Blushh
Before illuminati hotties took the stage Wednesday night, fellow L.A. group Blushh brought all kinds of energy to the Linen Building, so much so that frontwoman Shab Ferdowsi advised moshers to "be safe" and "not hurt one another." Everyone emerged from the set in one piece, as far as I know, and quite possibly with a new favorite band to dive into: Blushh, also fresh off a South By Southwest run, stunned the whole crowd with their searing guitar-pop and righteous power chords.
3. Caroline Rose
No performance matched the energy of Caroline Rose's at Neurolux on Friday night. Rose and her mates are high-energy and goofy, but their show feels less like a schtick and more like a genuine desire to entertain. Rose says it's an intentional departure from reality. "When you step into the room I want it to feel like you're in a different world," she says. "Feeling like you can be your weirdest, freakiest self in a space is really important." And Rose lets her freak flag fly. At one point during the set, she chugged half a Pabst Blue Ribbon, dunked the rest on her face and then crushed the can on her forehead. Much of the audience seemed unfamiliar with her music, but she had no trouble capturing the rowdy festival-goers. She even worked in a spunky cover of Britney Spears' "Toxic."
4. Cedric Burnside
Along with artists like Gary Clark Jr. and Adia Victoria, Cedric Burnside is keeping the blues alive in 2019. The grandson of acclaimed blues artist R.L. Burnside, Cedric tames tradition while pursuing his own country sound. The line to see him on Saturday wrapped around the width of the Basque Center in downtown Boise, and for the lucky few who got in, it was a warm, communal performance to remember. Burnside completely captured the crowd with his welcoming demeanor, toe-tapping melodies and stellar guitar playing.
5. illuminati hotties
Illuminati hotties, Sarah Tudzin's L.A.-based project who are soon heading out on tour with American Football and show plenty of emo traits themselves (confessional lyrics, communal fanbase, catchy guitar pop) are a tremendously fun live band. Their set, full of staggered drum solos (from both Tudzin and drummer Tim Kmet), spectacular shredding and good-natured banter, was my favorite of Wednesday night. A recorded version of "(You're Better) Than Ever" stylized like the Super Mario Bros. theme song sounded off while Tudzin switched guitars. And at one point, she audibly howled like a werewolf and demanded the audience do the same. After the chorus of shouts to the moon died out, the band rolled into a rousing version of their latest single, "I Wanna Keep Yr Dog," about a time when Tudzin preferred her date's dog over her date.
6. Low
While I was certainly familiar with Low before this weekend, I'd never really connected with their music until I witnessed husband/wife team Alan Sparhawk and Mimi Parker on stage at the Linen Building on Friday evening. Silhouetted against three shuttered screens, the band delivered one of the most visceral, core-shaking live performances I've ever seen. I was transfixed as swirling guitars and dark synths underscored Parker's eerie, at times manipulated, voice. It was unsettling in the right way, more of a wholly stimulating experience than a traditional band-to-audience showcase.
7. Rosie Tucker
Early on Wednesday, just as festival-goers were arriving in Boise, came a set from songwriter Rosie Tucker and their band, who just recently released a stellar new album, Never Not Never Not Never. Funny and frank, Tucker's a clever lyricist with a rock 'n' roll bent who played four shows this week, but based on that set alone they emerged triumphant as a highlight of the whole festival.
8. Sarah Shook & the Disarmers
People were swing dancing throughout Sarah Shook & the Disarmers' Saturday night set at The Olympic, which felt like a fitting way to experience the North Carolina band's rambling, electric country songs. Shook's hardcore melding of rock and twang is best experienced live, and this performance brought a welcome dose of the South to a festival heavily booked with Pacific Northwest rock. Shook isn't new to the festival circuit, but hers is a live show I'd definitely track down again.
9. Sudan Archives
Brittney Parks, a.k.a. Sudan Archives, energized a late-night Saturday crowd with her enchanting electric fiddle and voice. A self-taught violinist, Parks performs entirely solo, this time wearing a bright yellow one-piece, but she brings the sounds of a whole orchestra to the stage—her own strings, looping drum effects and woozy synths. The impressive instrumentalist appeared as a sonic seductress, warping and layering her own chord progressions to mirror that of a quartet's. Performing tracks from her 2018 EP Sink, including the hypnotic "Nont For Sale," the violinist made complicated musical experimentation look like fun.
10. Twain
Since releasing his new song collection 2 E.P.s, Twain's Mat Davidson landed on our list of 10 folk artists you need to know in 2019. Add "see" to "know," because Davidson is a captivating live performer. Davidson clutches his guitar close to his chest when he plays it, as if it might become a more effective vessel for expressing his emotions. Local coffee shop The District was an especially appropriate setting for this performance—intimate and airy, there was no room to hide. Friendly and casual, Davidson laid it all out in front of his small but attentive audience, even inciting participation at times. "If anyone came here to hear a particular song, just shout it on out," he said. Then, at the request of a front-row viewer, he rolled into a gentle version of "Dear Mexico."