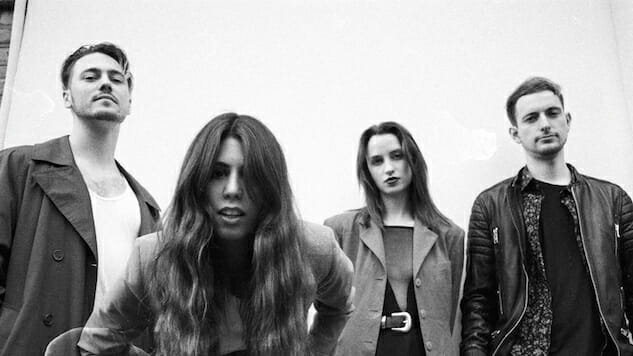 Daily Dose is your daily source for the song you absolutely, positively need to hear every day. Curated by the Paste Music Team.
London quartet Two Tribes have released a new song "Videodrone," which follows their debut single "Zone."
With a fleet of interstellar synths and exuberant programmed drums, "Videodrone" is packed with turbocharged electro-pop from the ether. Across this seven-minute track, Patrick Smith's glossy, robotic vocals meet keyboardist Annalisa Iembo's beautifully projected, house music-like pipes. With retro, heady rhythms perfect for the dancefloor, this track would also fit in at a '90s-themed rave, an 8-bit videogame or an epic starship saga.
The band said of the song:
"Videodrone" deals with how the idea of a digital identity, over-stimulation from technology and the internet can perpetuate disillusion and desensitization in the real world. For some of us, the amount of information available can be a difficult thing to process sometimes, we wanted to explore in this song that increasingly blurred line between mind and mechanism. The title takes inspiration from David Cronenberg's 1983 film Videodrome, which carries similar themes about the cult of technology.
Listen to "Videodrone" below, and check out their upcoming U.K. tour dates further down.
Two Tribes Tour Dates:
November
09 – London, U.K. @ Shacklewell Arms
12 – Brighton, U.K. @ Latest Music Bar
29 – London, U.K. @ The Lexington