U2 to Play Invite-Only Concert at the Apollo with SiriusXM
It's the band's first-ever show at the Apollo
Photos by Samir Hussein/Getty
Music
News
U2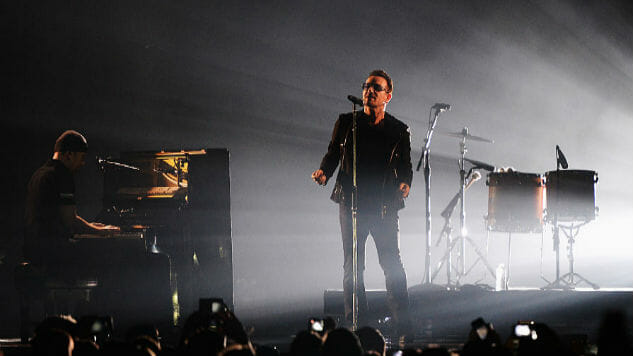 U2 are taking a break from their massive eXPERIENCE + iNNOCENCE stadium tour for a more intimate setting: a private performance at Harlem's Apollo Theater. The concert, hosted in conjunction with SiriusXM, will be held on June 11.
The last time the Irish rockers played a concert venue of the Apollo's size in New York City was at the Irving Plaza in 2000. Since then, they have performed almost 500 arena shows for the Elevation Tour, the Vertigo Tour, the U2 360° Tour, the Innocence + Experience Tour and the Joshua Tree Tour 2017. (If you multiply all 500 of those shows by the average stadium capacity of 50,000 people, you get, well, a whole lot of tickets sold, that's for sure.)
Over the course of their 42-year-long career, U2 have never performed at the Apollo. Frontman (and sunglasses icon) Bono expressed his excitement about playing at the historic venue in a statement, saying, "The Apollo Theater is the heart of New York's musical soul, and to finally be playing our songs on the same stage where James Brown begged 'Please, please, please' is not only a bucket-list moment, it's an incredible honor." The theater opened its doors in 1934.
Immediately following the performance, the concert will be streamed for SiriusXM subscribers via satellite, the SiriusXM app and siriusxm.com. SiriusXM subscribers should keep an eye out for an invitation sent by e-mail to win tickets to U2's private performance.
For information on the band's, ahem, less intimate shows, read Paste's take on how U2 redeemed the stadium show here. SiriusXM subscribers can stream the concert here.
Check out a complete list of the stops on U2's eXPERIENCE + iNNOCENCE Tour below.
U2 Tour Dates:
May
15 – Los Angeles, Calif. @ The Forum – SOLD OUT
16 – Los Angeles, Calif. @ The Forum
19 – Omaha, Neb. @ CenturyLink Center
22 – Chicago, Ill. @ United Center
23 – Chicago, Ill. @ United Center
26 – Nashville, Tenn. @ Bridgestone Arena – SOLD OUT
28 – Atlanta, Ga. @ Infinite Energy Arena – SOLD OUT
June
05 – Montreal, Canada @ Bell Centre – SOLD OUT
06 – Montreal, Canada @ Bell Centre – SOLD OUT
09 – Uniondale, N.Y. @ NYCB LIVE: Home of the Nassau Veterans Memorial Coliseum – SOLD OUT
13 – Philadelphia, Pa. @ Wells Fargo Center
14 – Philadelphia, Pa. @ Wells Fargo Center
17 – Washington D.C. @ Capital One Arena – SOLD OUT
18 – Washington D.C. @ Capital One Arena
21 – Boston, Mass. @ TD Garden – SOLD OUT
22 – Boston, Mass. @ TD Garden
25 – New York City, N.Y. @ Madison Square Garden
26 – New York City, N.Y. @ Madison Square Garden
29 – Newark, N.J. @ Prudential Center
July
01 – New York City, N.Y. @ Madison Square Garden
03 – Uncasville, Conn. @ Mohegan Sun
August
31 – Berlin, Germany @ Mercedes-Benz Arena – SOLD OUT
September
01 – Berlin, Germany @ Mercedes-Benz Arena – SOLD OUT
04 – Cologne, Germany @ Lanxess Arena – SOLD OUT
05 – Cologne, Germany @ Lanxess Arena
08 – Paris, France @ AccorHotels Arena – SOLD OUT
09 – Paris, France @ AccorHotels Arena – SOLD OUT
12 – Paris, France @ AccorHotels Arena – SOLD OUT
13 – Paris, France @ AccorHotels Arena – SOLD OUT
16 – Lisbon, Portugal @ Altice Arena – SOLD OUT
17 – Lisbon, Portugal @ Altice Arena – SOLD OUT
20 – Madrid, Spain @ WiZink Center – SOLD OUT
21 – Madrid, Spain @ WiZink Center – SOLD OUT
29 – Copenhagen, Denmark @ Royal Arena – SOLD OUT
30 – Copenhagen, Denmark @ Royal Arena – SOLD OUT
October
03 – Hamburg, Germany @ Barclaycard Arena – SOLD OUT
04 – Hamburg, Germany @ Barclaycard Arena
07 – Amsterdam, Netherlands @ Ziggo Dome – SOLD OUT
08 – Amsterdam, Netherlands @ Ziggo Dome – SOLD OUT
11 – Milan, Italy @ Mediolanum Forum – SOLD OUT
12 – Milan, Italy @ Mediolanum Forum – SOLD OUT
15 – Milan, Italy @ Mediolanum Forum – SOLD OUT
16 – Milan, Italy @ Mediolanum Forum
19 – Manchester, United Kingdom @ Manchester Arena – SOLD OUT
20 – Manchester, United Kingdom @ Manchester Arena
23 – London, Great Britain @ O2 Arena – SOLD OUT
24 – London, Great Britain @ O2 Arena
27 – Belfast, Great Britain @ SSE Arena – SOLD OUT
28 – Belfast, Great Britain @ SSE Arena – SOLD OUT
November
05 – Dublin, Ireland @ 3Arena – SOLD OUT
06 – Dublin, Ireland @ 3Arena – SOLD OUT
09 – Dublin, Ireland @ 3Arena – SOLD OUT
10 – Dublin, Ireland @ 3Arena – SOLD OUT