Vince Staples Stars in Grim Video for Clams Casino's "All Nite"
Photo by Michael Tullberg/Getty
Music
Video
Vince Staples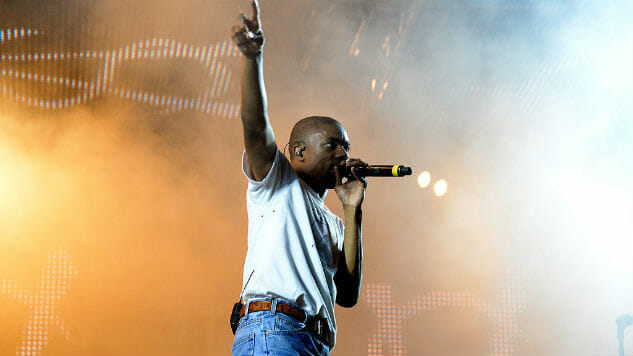 California rapper Vince Staples veers into some sinister territory with his verses on Clams Casino's "All Nite," one of the singles off of the producer's forthcoming album 32 Levels. A video has premiered as well for the new song, directed by Ryan Staake, who has also worked on music videos with the likes of J. Cole, Alt-J, Major Lazer and Lil Wayne.
The lyrics to "All Nite," which discuss Staples' days as a member of a gang on the North side of Long Beach, Calif., are pretty grim, and have the visuals to match. The video itself is pretty spare, with Staples rapping from atop a trailer intercut with shots of a desolate shipping yard, made more eerie with side-by-side edits of night and day which introduce a strange sense of foreboding into the short film.
Although 32 Levels is Casino's first studio album, his prolific production credits include work with artists from Blood Orange and FKA Twigs to A$AP Rocky and The Weeknd. He has also worked with Lil B on another single, "Witness," from the unreleased LP, which can be streamed here. 32 Levels will become available starting July 15.
Meanwhile, Staples is having a productive summer of his own: his EP, Prima Donna is due out in the next month or so. In the meantime, watch his bleak feature in the foreboding video for "All Nite" above.