For Whitney, Some Things Just Never Change
We chat with Max Kakacek about the Chicago band's sophomore album, Forever Turned Around, and the shifts that inspired it
Photo by Olivia Bee
Music
Features
Whitney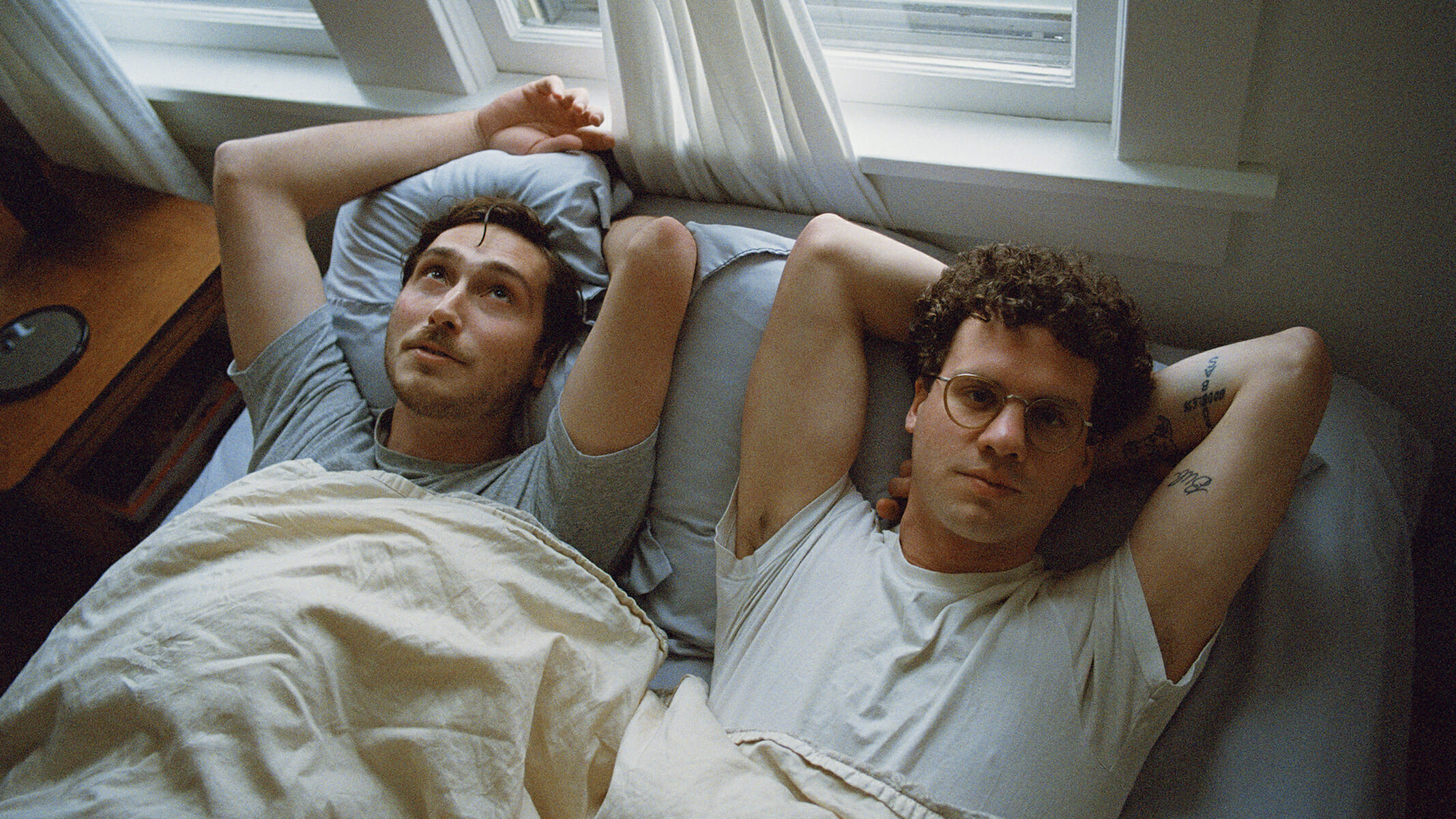 The video for Whitney's first-ever single, "No Woman," arrived in January 2016, about six months before their debut album. In it, Julien Ehrlich, Max Kakacek and their bandmates occupy a misty wintry scene: log cabin, roaring bonfire, low-hanging fog, a thick carpet of brown leaves. Appearing totally at ease, the jacket-clad gang of guys throw axes at trees, stink bombs at the pond and PBR cans at one another. It's actually quite a beautiful video, even though it could work in a version of Animal House where all the characters are indie musicians. Aside from a shot of Kakacek's expert guitar noodling, they don't look like a band who are fixing to break; they're just a bunch of friends messing around in the woods.
"I left drinking on the city train, to spend some time on the road," Ehrlich sings in his now-famous falsetto. "I'm just walking in a haze, I'm not ready to turn."
Light Upon The Lake dawned that summer to lots of positive critical chatter, Whitney cracked the Billboard Top Rock Albums chart (and tons of end-of-the-year lists, including ours) and "some time on the road" turned into two years on tour. Things changed, as life so often does for touring musicians—especially those with a highly successful debut on their hands.
"Our personal relationships and friendships changed a lot," Kakacek tells Paste. Except his own with Ehrlich, he adds: "Considering all the things that have changed in our lives over the past three years, our friendship hasn't. It remains constant understanding between both of us. It's kind of beautiful that it has stayed the same in that way. Neither of us have started taking ourselves seriously enough where we have an ego. There's a certain part of us, I think, that has become like one brain. A lot of ways, we're just kind of like one person working alone. It's the benefit of two minds just like on accident, so we have similar thoughts constantly, but it's not hard to figure out how to write songs. They just kind of come."
Writing may be easy for the duo, but on Forever Turned Around, they decided to change up the formula ever so slightly.
"I think the main thing is we just got almost too comfortable within our own instruments," Kakacek says. "So a lot of this record was me and Julien switching instruments a lot and trying to write on different instruments that we didn't feel as comfortable on."
For Kakacek, the Chicago outfit's lead guitarist who mostly stuck to his tool of choice on LP1, that meant writing more songs on the piano for Forever Turned Around, the band's sophomore album out now on Secretly Canadian. And Ehrlich, the rare drummer-and-lead-singer-in-one, flirted with guitar. "So it was a lot more fluid in that way—having been playing the same instrument for like three years straight and feeling kind of limited by them I guess," Kakacek says.
Kakacek and former Unknown Mortal Orchestra drummer Ehrlich—who before Whitney were both in Smith Westerns, another Chicago indie rock band that formed in 2007 when Kakacek was still in high school—wrote the bulk of Light Upon the Lake holed up at home in the city during a bleak Midwestern winter. The result was, ironically, the sunniest breakup album you've ever heard, full of bittersweet songs that blur the line between memory and reality.
Forever Turned Around is its sepia-colored cousin, looser, warmer and even jammier at times ("Rhododendron" bloomed when "Everyone picked up an instrument and got in one room and just played," much like LUTL's "Red Moon"). But the lyrics still explore similar themes: growing up, moving on, looking back, falling out of old relationships ("Giving Up") and forming new ones ("Used To Be Lonely"). Then there's the pleasantly drifting "Valleys" (My Love)," the centerpiece that stitches all the changes together—the denial in the face of heartbreak, the confusion and the changing of seasons that persists no matter what. "There's fire burning in the trees," Ehrlich sings. "Maybe life is the way it seems." It's a breezy groover but, like so many Whitney songs, it's packed with subtleties.
"I think with our writing sensibilities that are usually melodic and poppier, we always try to balance it with something that's darker in content to make it more meaningful," Kakacek says. "The question is always, 'How do we make this not surface level? And how do we give it more depth?' That's usually where that juxtaposition of feel-good but also kind of anxious or restlessness comes from."
When Whitney broke out in the music world circa 2016, the press—and the band themselves—often described that oxymoronic sound as something along the lines of "country soul," which, considering the album's gigantic horn arrangements, weepy twang and rhythmic tempo, was not an unfair tag. But it doesn't feel quite right for this record. And while Whitney hold court with indie rock fans, "rock" just isn't the word either. It's a good thing Kakacek and Ehrlich don't really care.
"Me and Julien talked a little bit about the idea of genre, and I feel like now genre is only usually used in a diminutive way, like to put you in a pigeonhole," Kakacek said. "But I think in the 'country soul' conversation, it's more leaning towards soul and folk instead of what I would consider as country. It's still using the same elements and the same textures that we used last time, but the songwriting itself is a little bit more on the soul side and folk side."
While the writing for Light Upon the Lake took shape in a relatively stable environment—inside, while the snow was falling—Forever Turned Around is a product of mobility. Occasionally it was an escape from tour; other times, a retreat from the normalcy of Chicago. But Kakacek and Ehrlich constructed the bones of the album all over the world, in a small Illinois town where Kakacek's grandmother lives, in Eau Claire, Wis., Portland, Ore. and California's Sonoma region. They had a "brief writing experience" in Montana, and they capped a European tour with a stint in Lisbon, Portugal, where they wrote some of the earliest drafts. Rather than take a hiatus ("Taking a day off wasn't even on our minds," Kakacek said), the pair just kept moving whenever their inspiration felt stalled.
"When we were feeling like really bogged down with an idea in Chicago, we'd be like, 'Hey, it doesn't seem healthy for our mental state or anything around us to be sitting here trying to bang our heads against this idea in Chicago,'" Kakacek says. "So we'd be like, 'Let's maybe see if we can find a car or get on a plane and go somewhere that we haven't been before, to clear our heads and work on it there.' So we never really took any vacations necessarily, but we would try to get out of wherever we were at the time where we started to feel frustrated or getting writer's block and try to move our head space somewhere else."
Even the recording process was split between three different locales. Kakacek broke it down like this: "30% was probably recorded with [producer Jonathan Rado] in California, another 30% in Eau Claire with [producer Bradley Cook] and the other 40% was in Chicago, in a basement."
That's the same basement studio belonging to original rhythm guitarist Ziyad Asrar, where they recorded much of Light Upon the Lake three years earlier. Asrar, who's also currently on tour with the band, contributed heavily to two songs in particular: The bouncy yet melancholic coming-of-age tale "Song For Ty," and the searching title track, which directly references that lonely Chicago winter from long ago ("Spent a long cold winter thinkin' about / The way forever turned around.") Both songs also feature gorgeous cello and violin by Chicago musicians Lia Kohl and OHMME's Macie Stewart.
"We try to keep everything organic, so we try not to use samples or synthesizers," Kakcek says. "So if we are hearing a texture, we'll try to figure out a way for someone to actually perform it. It's pretty easy to be like, 'We know someone in Chicago that can somehow actually create that."
Their strong relationship with the city was obvious this summer during their Pitchfork Music Festival performance, the band's first show in nearly a year, where they debuted songs from Forever Turned Around to a packed crowd of local friends, family (including Kakacek's parents) and fans. Approximately half the festival lineup, including Snail Mail's Lindsey Jordan, Soccer Mommy's Sophie Allison and CHAI, as well as fellow Chicagans Tasha and Lala Lala's Lillie West, joined the band on stage for the "na na na" outro of "Golden Days." It looked like a scene from Newport Folk Festival, and the sprawling audience like a clip from Woodstock '99 footage. Whitney is a Chicago band through and through.
"The amount of people that were at our stage was really surprising, and all of us were shocked and happy," Kakacek says. "I felt like I was stoned the entire time just 'cause it was so surreal."
Whitney's set was a party, but it was also a reminder of the changes and loss that have impacted everyone in the band. Asrar had just lost his mother the month before, in June, so the band performed "Follow," a Light Upon the Lake cut about the passing of Ehrlich's grandfather, in her honor, with Asrar's family watching from the audience.
Maybe the only true constant is change, but Chicago is still homebase, Whitney's music keeps moving people as a force for good and, perhaps most importantly, Ehrlich and Kakacek are still thick as thieves—and their songs are all the better for it.
"[Playing] live for us is just complete happiness," Kakacek says. "We all just love playing music. Real live representation of even emotional material is usually somewhat a celebration even if it is darker content. Even if it is a heavy thing, it's always good to use the songs in that way, instead of taking them serious like, 'This is a sad song and so we have to be sad when we play it.' You could still make it somehow a positive."