Watch Yeah Yeah Yeahs Grace the Stage for the First Time in Four Years
Photo by Mark Metcalfe/Getty
Music
News
Yeah Yeah Yeahs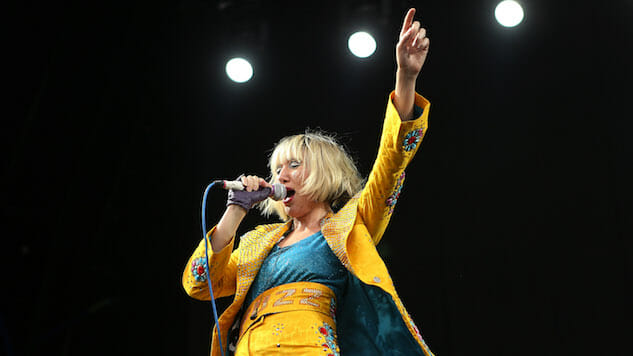 The last time Yeah Yeah Yeahs hit the stage was for a one-off show in Brazil in November 2013. It was months after the band put out Mosquito, which would be their last release before going on hiatus. Fast forward four years: They're getting back into the swing of things.
In celebration of the reissue of their debut album Fever to Tell, YYYs played Los Angeles' Fonda Theatre last night. Starting with "Modern Romance" and ending with "Tick," the band hit their discography's highlights but mostly relied on Fever to Tell tracks to foster their performance—the only songs from the album they left out were "Man" and "No No No." Upon returning to the stage for an encore, they unearthed the hidden track "Poor Song."
Yeah Yeah Yeahs will perform again in Los Angeles this Saturday and will venture north to Oakland to the Fox Theater on Monday. Come Nov. 7, they'll cross over to the East Coast to perform at Kings Theatre in Brooklyn.
The Fever to Tell reissue was released on Oct. 20 and included "a time capsule of photos, demos (first ever recorded), a mini film documentary," and other memorabilia. Watch fan-shot videos of YYYs' renditions of "Modern Romance," "Poor Song" and "Tick" below, and revisit the previously unreleased Fever to Tell tracks, "Phone Jam" and "Shake It."