Yoke Lore Releases "Cut and Run" with Dizzying Music Video
Images courtesy of Big Indie / Yell House Records
Music
News
Yoke Lore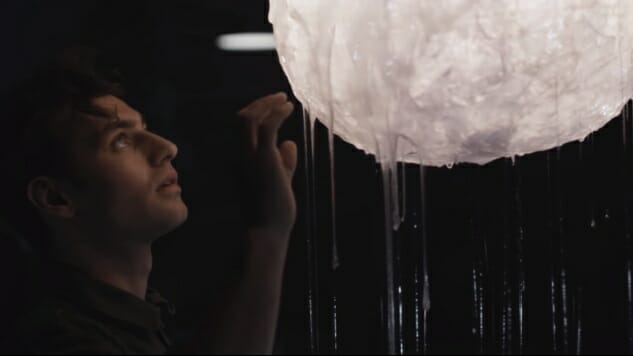 On Friday Yoke Lore released the new song "Cut and Run" along with an accompanying music video. Yoke Lore's forthcoming EP Absolutes was announced in March—set for release this summer—and "Cut and Run" joins the first song off the EP, "Fake You."
The artwork for both "Fake You" and "Cut and Run" features tight line art and simple use of color, a style that has become a trademark of the artist. The art for "Cut and Run" takes an approximately circular shape and looks like tree rings, with the brown border suggesting bark. This natural imagery finds its way into the song's music video, as well.
On this song Adrian Galvin, the man behind the moniker Yoke Lore, contemplates direction and movement. The repeated lines, "I'll be the end of your affinity to cut and run, you'll be the map I read to heal and get me through this one," address both. Galvin suggests that he can stop the addressee from trying to run away, and that they can give him direction and help guide him through his own struggles. The geographical wording circles back in the environment-minded music video.
Directed by Nick Lieberman, the "Cut and Run" video dumps Galvin in a barren environment where he stands only to repeatedly fall. Eventually he is transported to some green space before sliding into an industrial-looking building where he finds an otherworldly, dripping orb. The whole video is dizzying as Galvin's movements constantly change speeds. The lyrics, "Find a way through the pain / When it's gone you wish it stayed," seem to reflect in the video as Galvin crosses through different environments and ultimately retraces his path to end up back in the initial barren landscape. Although the lyrics mention a second person ("The slope of your neck give me something to believe in"), the video frames the song as a personal journey.
Below you can watch Yoke Lore's new video and his 2017 Paste Studio session.