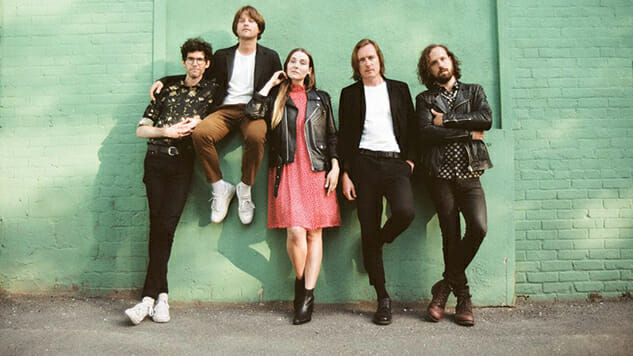 Daily Dose is your daily source for the song you absolutely, positively need to hear every day. Curated by the Paste Music Team.
Vancouver psych rockers Yukon Blonde are back with another new single, "Love the Way You Are." This garage/psychedelic/indie rock fusion, premiering here at Paste today, is the latest taste of the group's forthcoming album Critical Hit, available June 22 on Dine Alone Records.
Their latest song, which follows previous singles "Crazy" and "Emotional Blackmail," sticks to the band's triple-A radio psych rock style, adding in some garage rock for an uptempo anthem. "Love the Way You Are" combines steady drums and a menacing bass line with a gritty electric guitar, setting up it for future house party rocker status. The effervescent production of the song emphasizes its inspirational chorus as the group chants, "If you want something baby, go out and get it / Life's dragging you down / Don't you forget it / Don't ask permission or beg for forgiveness / If you want something baby, go out and get it."
When speaking on the track's inspirational vibe, the group's frontman Jeffery Innes stated, "The song is about a friend of mine who was going through a tough time as a creative person. She felt that she was being objectified and mistreated because she was a woman and different." He added, "So I secretly wrote this song … I think it's important to let your friends know they're worth it."
Yukon Bonde's fourth album serves as the follow-up to 2015's On Blonde.
Listen to "Love the Way You Are" and the group's 2012 Daytrotter Session below, and find their tour slate further down.
Yukon Blonde Tour Dates:
May
11 – Toronto, Ontario @ CMW / Paradigm Talent Showcase
26 – Toronto, Ontario @ CBC Music Festival
June
01-03 – Seattle, Wash. @ Upstream Music Festival
July
27 – Bengough, SK, Canada @ Bengough Regional Park
September
07-09: Vancouver, British Columbia @ Skookum Festival