Laurie Hernandez, the 16-year-old Gymnastics Phenomenon, is Calm, Charismatic, and Ready for Rio
Photos courtesy Getty Images
Olympics
Features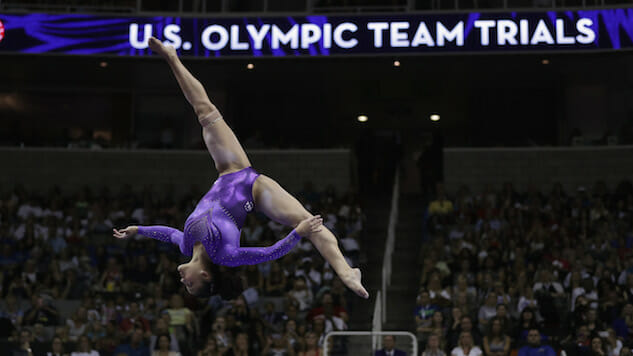 There are a few universal pressures for most 16-year-olds in the United States, usually involving some combination of heartbreak and social status, that can overtake a high schooler's scholarly and athletic ambitions. Laurie Hernandez, however, doesn't have time for any of that. She's laser-focused on representing her country in Rio as a member of the U.S. women's gymnastics team.
Hernandez is the youngest member of the five-women U.S. squad, which includes two returning Olympians in their 20s—Aly Raisman (22) and Gabby Douglas (20)—as well as two 19-year-olds, Simone Biles and Madison Kocian. At an average age of 19.2, this team is the second-oldest for the U.S. women since 2000. Last cycle's gold medal-winning team in 2012 was the youngest at an average age of just 16.4.
Despite being the youngest of the group and just a first-year senior-level elite gymnast, Hernandez isn't intimidated nor does she feel as she lacks the experience to compete on the big stage. "[National team coordinator] Martha [Karolyi] has done a really good job of setting everything at the [national team training] camps like they would be at a meet," Hernandez told reporters recently. Internationally, she most recently competed at the Pacific Rim Championships in April for the U.S. team that won gold over teams such as Canada, Australia and Japan. She, along with Biles, competed all-around in the team final and Hernandez wants to use that experience to prepare for what she will face at Rio.
"When I went to Pacific Rim, it wasn't too much different than it was at a camp, honestly, and I'm expecting Rio to basically be like Pac Rims and the training to be exactly the same," she said.
Confidence exudes from Hernandez, who should be on a short-list for the most well-spoken teenagers in the country. It's apparent both in and out of competition, but especially in her floor routine, where her charisma has captivated those who have watched her in the meets leading up to the Olympics.
There's good reason for this confidence: Hernandez can back it up on the mat. She entered the first phase of Olympic qualifying—the P&G Championships—as a fringe candidate to make the Olympic team. She left that meet and headed into Olympic Trials two weeks later viewed as a lock, thanks to what was a then-surprising third-place finish in the all-around. Hernandez isn't really surprising anyone anymore. She's already cemented herself as a rising star to watch in Rio with big things expected of her.
The confidence, and the results, come from the dedication she puts into practice time in the gym. Hernandez's coach, Maggie Haney, has been with Hernandez since the gymnast was five years old. Haney noted the practice habits when discussing how the pair have been preparing for Rio. "She's always been a really hard worker. That's something I could never take from her. She, always in the gym, will do whatever I say 100 times with a smile on her face," Haney said.
A good work ethic might not be unique for an Olympics-bound athlete, but Hernandez's training situation is. As part of Haney's MG Elite team, which has been cut down to just three current gymnasts—Hernandez, 2014 junior national champion Jazmyn Foberg and current junior national team member Riley McCusker—Hernandez and her teammates split time between two New Jersey gyms 27 miles apart. MG Elite's home gym is located in Morganville, New Jersey, but there are deficiencies in equipment needed to train at an elite level, due, in part, to the gym's lack of its own high-level girls team. For instance, the gym does not have a set of uneven bars over a pit—which makes things like training release skills and dismounts both easier and safer—and its vault runway is just 76 feet long, six feet shorter than the maximum distance allowed in competition.
So a few days a week the team trains out of a gym in Hamilton with more pits and better equipment. Days at this gym start at 8:30am for Hernandez and training goes until 4pm, at which point the gym's other practices start. During the school year, class gets wrapped into this routine, as Hernandez is home-schooled to get the most out of her training.
"It's definitely a unique situation. I don't know if anyone's had to do this before," Haney said of the gym split.
Over the course of the past year the duo have been working hard in the gym, but most of the focus has been on the mental aspect of competing rather than throwing bigger skills to beef up difficulty in routines.
"In gymnastics, we work on upgrading every single day, but this year it was more about cleaning up and getting consistent," said Hernandez. "I think a few years ago when I got into big competition I was really frazzled because I had no experience. Now that I'm doing all these big competitions, I've learned to control my nerves and control my mindset and I think that's where the maturity comes in."
This focus even involved seeing a mental trainer about how to handle big situations like the one Hernandez will face in August. It's through that training where Hernandez learned to place her hand on her stomach and take a deep breath before routines, something noticed by many before she steps across the boundary for the start of her floor routine.
Through this mental training, there's been an evolution to how Hernandez and Haney approach each other in the gym, even after over a decade working together.
"I don't explain too much anymore," Haney said. "I say we're going to go here and we're going to do this. I don't go into a lot of detail or I don't tell her what's riding on it or how important this is. That stuff doesn't really work for her."
Whatever Haney has been doing has worked—it's gotten them to the Olympics—and Hernandez has fully bought in. "I have a lot of trust in Maggie," Hernandez said. "I've been with her since I was five and she's led me into such amazing, great places in my gymnastics career. All I can do is trust her. She has a really good heart for me, so anything that she says I'm just there to believe in her."
Sometimes that trust leads to uncomfortable things while training in the gym in order to make competition feel more comfortable. Haney would put Hernandez through "pressure sets" in practice on beam, an event that has become Hernandez's strongest. Hernandez's least favorite of these pressure sets would be when Haney would stop everyone else in the gym, turn the music off so the gym is dead silent and have Hernandez perform a routine with all of the attention on her.
"I would make her stand there and wait maybe two, three or four minutes," Haney said. "Now we don't even do pressure sets anymore because we've got it under control now. We just do a lot of beam routines now and a lot of repetition."
Pressure clearly doesn't faze Hernandez when she's competing. At the second night of Olympic Trials, Hernandez had the last routine of the night on beam. By this point her spot on the Olympic roster was all but official, but Hernandez still wanted to end the meet with an exclamation mark. She did so by performing a flawless beam routine that received a score of 15.7, the highest score on the event for any gymnast during the two-day competition. It all comes from the comfort level established in practice.
Haney points out when Hernandez is standing at the beam before her routine ready to salute the judges, she's not looking the judges in the eyes. Instead, she looking just slightly past them at Haney in a position the coach has placed herself recently to make it feel like Hernandez is just saluting to her coach to show a good routine in the gym.
The comfort together will take them to Rio, but first to Texas for the final national team camp before the Olympics start. It's there the final preparations and practices will be held with Martha Karolyi before the whole team heads over to Brazil. But like the competitions, Hernandez and her coach are playing it cool.
"The training camp shouldn't be too different from all the other camps we've been doing. Haney said. "Martha will set the assignment and we'll have to follow her plan. We pretty much know what the day-to-day plan is, so we're prepared for that. The difference is it goes for a long time. This is a nine-day training camp versus a five-day training camp. It's a little bit longer but we know what we're in for."
During the camp, it's likely the individual contributions of the team will be finalized. As was the case with the lack of suspense about who would make the team before the Olympic Trials started, there's not much mystery about how responsibilities will be divided during the qualifying round. In that opening round of competition, teams qualify for the team final and individuals qualify for both all-around and event finals.
In qualifying rounds, teams are allowed to put up four routines and three scores will count towards the team total. In the final, it's only three routines and all three count. With the way the U.S. roster is set up, it's likely only two gymnasts will compete all-around during qualifying with a chance to earn a spot in the final. Biles, the overwhelming gold medal favorite in the all-around, will undoubtedly compete in all four events.
What that leads to is a backlog on bars during qualifying. Gabby Douglas and Madison Kocian were brought to Rio almost exclusively for their high bar scores and they will assume the next two spots on bars. Biles—bars are her weakest event—will take the third spot. That leaves the final opening—and likely the second all-around position—between Hernandez and Raisman. Both have a case. Raisman should have been a bronze medalist in the all-around during the London Olympics, but she finished in a tie for third place and tiebreaker rules do not allow duplicate medals to be awarded. Raisman lost the tiebreaker and her spot on the podium.
Still, Hernandez has handily outscored Raisman on bars over the past two competitions. With four combined scores during two nights of P&G Championships and Olympic Trials, Hernandez's average score on bars has been 15.025 and Raisman's average has been 14.263.
Hernandez sees the opportunity to compete all-around at the Olympics and would relish it, but also knows the decision is up to Karolyi. At the same time, Hernandez is quick to recognize her own qualifications for the role.
"It would be an amazing opportunity to compete all-around," she said. "At P&Gs and Olympic Trials, three out of four times I've come in second place all-around. It would such an amazing opportunity, but all of this will be decided at the camp and from the training we're about to have and so we'll find out then."
She knows bars will play a big part in how her role plays out in Rio and she's eager to prove she can handle it if called upon.
"We've been working a lot on bars," Hernandez said. "I just want to go out there and show that bars is a strong event for me and I don't want them to think just because I made a few mistakes over the weekend that bars is not an event I'm good at."
In the team final, Hernandez is penciled in on two events—beam and floor—and could make her way into the vault lineup instead of Douglas. Both gymnasts compete the same vault—a double twisting yurchenko —but Douglas has the ability to perform an Amanar, which adds another half twist. However it has been some time since Douglas competed that vault and there has been no indication she will be ready to do by the start of the Games.
Whether Hernandez competes in the all-around or just a few events, her performance in Rio will have a major impact on her future. Even at just 16, Hernandez is already verbally committed to the University of Florida to join its gymnastics team once she reaches college. But with a chance of medaling individually in Rio—which itself brings monetary rewards —and possible endorsement opportunities to follow, the prospect of going pro is real. That would mean competing gymnastics in college would no longer be an option. It's something Hernandez and Haney have yet to seriously consider.
"We haven't discussed anything like that yet," Hernandez said. "All of that is to be decided after the Olympics. We're headed straight to the Olympics right now and we don't want any distractions."
The future may be uncertain for Hernandez, but the path to Rio has certainly been bright.