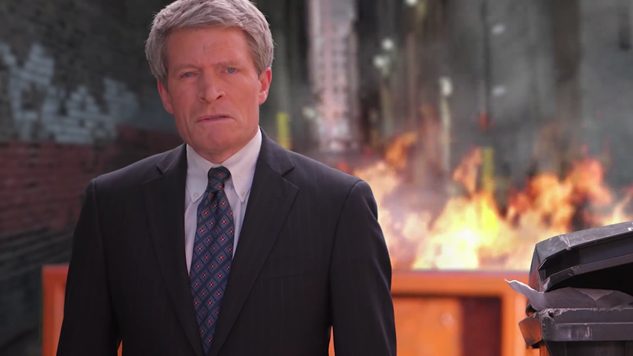 This "best of" list will be comprised of bad and ironically good commercials. It will not contain legitimately great and inspiring ads like Democratic candidate for Texas' 13th district, MJ Hegar's "Doors" that gets you motivated to go vote (which reminds me, register to vote, then go vote!).
We here at Paste politics cover enough serious topics—we need a break. This piece is for (mostly) bipartisan laughs, cover-your-eyes awkwardness and schadenfreude. Here are the best (bad) campaign ads of the 2018 cycle (note: this includes people who lost in 2018 primaries, as that's where a lot of the best bad ads are found).
Levi Tillemann — Democrat in the 6th congressional district of Colorado
Levi (who lost to Jason Crow) came out here with an important message about the problem with guns in America, and he's here to propose a solution that seems reasonable given the dystopia we currently reside in: keep a can of pepper spray locked in a cabinet in every classroom in case the inevitable reality of America's gun problem comes to its door. The reason it makes this list is because my man Levi felt the need to spend nearly half the ad demonstrating the power of pepper spray—on himself.
Richard Painter — Democrat for Senate in Minnesota
The former Bush White House aide-turned Democrat wound up losing to Tina Smith while amassing only 13.7% of the vote, but not before he unleashed a literal and metaphorical dumpster fire of an ad for the internet to memeify until the end of time.
Dan Helmer — Democrat in the 10th congressional district of Virginia
Helmer lost to Jennifer Wexton, and he produced such an incredible piece of art that we had to cover it here at Paste when it was released all the way back in the before times, in late 2017. There is no way to adequately summarize this…just…I mean…just…my God…
Doug Lamborn — Republican in the 5th congressional district of Colorado
Lamborn won his primary and will face Stephany Rose Spaulding on November 6th. Lamborn—one of Colorado's preeminent conservative bootlickers—demonstrates his incredible bootlicking abilities by doing everything short of changing his name to Donald Trump in a commercial attacking his primary opponents for not loving Donald Trump as much as Doug Lamborn loves Donald Trump. Sad!
Ron DeSantis — Republican for Florida governor
This may come as a shock, but a man who went on TV and said that Floridians can't "monkey this up" in reference to voting for his African American Democratic opponent in next month's election loves Trump so much that he's indoctrinating his children into the Cult of Trump.
Don Blankenship — Republican for Senate in West Virginia
Thankfully, Blankenship lost his primary in West Virginia, but still garnered a truly startling 19.97% of the vote. If you're not familiar with this man…
First, congrats on living a normal life, I envy you, and second:
You could convince me that this was a clip from a new episode of It's Always Sunny in Philadelphia introducing another one of Charlie's uncles. Don Blankenship—a man who was convicted in 2014 of violating mine safety standards and impeding investigations as CEO of Massey Energy during the Upper Big Branch Mine Disaster that killed 29 of his employees—caused a stir by just coming right out and saying stuff like "swamp captain Mitch McConnell has created millions of jobs for China-people."
Yatish Joshi — Democrat in the 2nd congressional district of Indiana
As a hip-hop fan who covers politics for a living, I've gotta say that this one has a soft spot in my heart. The internet loves it because irony, but the song is legitimately good, people. It makes this list because the "haaaaaa!" after the hook of "Together America works!" and "skiirt" appearing in a political ad are empirically hilarious and I will be periodically be laughing at this ad until the oceans swallow us whole.
Martha McSally — Republican for Senate in Arizona
This is chronic underachiever and supposed moderate, Jeff Flake's seat, and despite McSally being a standard GOP establishment villain, her story of fighting back against literally living under Sharia Law while deployed in Saudi Arabia is an earnestly positive one, but opening with "I absolutely refuse to bow down to Sharia Law" in your bid for the U.S. Congress is a uh, bit of a hard sell, no?
Brian Kemp — Republican for Georgia governor
This commercial ends with an old, white, male Republican pointing a gun in the direction of a millennial, culminating in a perfect moment of symbolism. Given the forceful overtones presented, it shouldn't come as a surprise that Kemp is using his power as Georgia Secretary of State to suppress the African American vote ahead of his very close election against his African American Democratic challenger, Stacey Abrams.
Doug Robinson — Republican for Colorado governor
Easily our most irrelevant candidate, Robinson made such a small dent that he doesn't even appear in the Ballotopedia summary of the GOP primary, but he produced an ad that's near-perfect satire—lampooning the kind of sloppy, untrained and self-proclaimed "responsible gun owner." My favorite part is around 18 seconds where you can see that someone off camera finally gets through to Robinson, saying "take your finger off the trigger you moron!!!"
Joe Manchin — Democrat running for Senate in West Virginia
Who says that American politics are childish? One of the most powerful Democrats in the Senate opened his ad shooting a stack of paper with a gun. See? Totally normal stuff!
Bill Rhea — Republican in the 5th District of Colorado
Rhea lost his primary to Doug Lamborn, garnering a mere 5.85% of the vote, but this commercial does not go the direction it looks like it will go, given where it takes place and what the candidate is wearing. What looked like an inevitable "yeehaw! Give every citizen their own Abrams tank!" rant was actually a very sober and reasonable statement about gun regulation from the right. Unironically enjoy this one, folks.
Michael Williams — Republican for Georgia governor
Q: How racist is America?
A: This racist
Come On, Ted!
We'll end with the ad of the year, directed by Richard Linklater. As Paste's Garrett Martin wrote, Linklater is a "proud Texan, big fan of the pinball machine Fireball, and director of such movies as Slacker, Dazed and Confused and Boyhood" and he "isn't a fan of Ted Cruz." Linklater loaded an authentic Texan actor into his camera, and fired thirty seconds of concentrated and deserved nuclear-grade scorn on a man who is very familiar with the boots of a president who called his wife ugly and said that his father was involved in President John F. Kennedy's assassination.
Come on, Ted!
Jacob Weindling is a staff writer for Paste politics. Follow him on Twitter at @Jakeweindling.