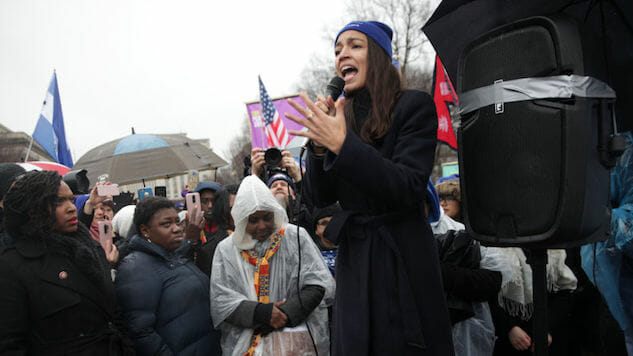 Alexandria Ocasio-Cortez slammed media reports on her new Washington, D.C., home address on the same day that federal agents apprehended a would-be domestic terrorist who included her in a prospective hit list.
Wednesday, NPR released documents detailing the arrest of Coast Guard Lieutenant and self-professed White Nationalist Christopher Paul Hasson. Hasson, 49, had been stockpiling weapons and ammunition in his Silver Spring, Md., home for over two years. Authorities found 15 firearms and over 1,000 rounds of ammunition, as well as a long paper trail detailing his planned use of them.
"We need a white homeland as Europe seems lost," Hasson wrote in a letter found in his home that also accused the American government of dismantling the White Nationalist movement by having "expertly infiltrated and destroyed from within most [sic] if not all Pro-White [sic] organizations." Hasson was apparently a tremendous fan of Anders Breivik, the Norwegian terrorist who killed 77 people, citing the "Islamization" of Europe as the root cause of his actions in a thick manifesto.
Hasson's hit list included Sen. Cory Booker, Sen. Kamala Harris, Sen. Elizabeth Warren and House Speaker Nancy Pelosi along with various media personnel and Ocasio-Cortez. His internet searches revealed look-ups like "most liberal senators," "do senators have ss protection," "are supreme court justices protected" and "where do most senators live in dc."
Last week, The Washington Free Beacon published an article detailing Ocasio-Cortez's new place of residence in a "luxury" D.C. complex. Wednesday, the same day that details of Hasson's activities were released, outlets like The Daily Mail and The Washington Examiner ran the same story. While the Congresswoman's exact address was not revealed in these stories, detailed descriptions of the property and surrounding landmarks were described.
Journalists are sharing stories about where I live the same day it's shared that myself + others were targeted by a mass shooter.

All this paired w/ amplifying unvetted conspiracy theories. It's reckless, irresponsible & puts people directly in danger.

This isn't a game. https://t.co/gcJWcKinxI

— Alexandria Ocasio-Cortez (@AOC) February 21, 2019
Ocasio-Cortez slammed the journalists responsible for such dangerous tabloid articles, at a time when the President has created such a hostile climate for both the press and his enemies to the left. Last year, 56-year-old avid Trump supporter Cesar Sayoc, Jr. was arrested for sending mail bombs to high-profile enemies of the president, including "fake news" CNN. Hasson's list of prospective targets included nicknames like "poca warren," a common Trump prod at Sen. Warren's claims of Native American ancestry.
Ocasio-Cortez's remarks can be understood as a firm condemnation of the kind of dangerous rhetoric that threatens the personal safety of political and media figures with opposing beliefs. Hopefully, repeated instances of thwarted domestic terrorism will prompt a change in media ethics and/or finger-pointing in the nation's capital.