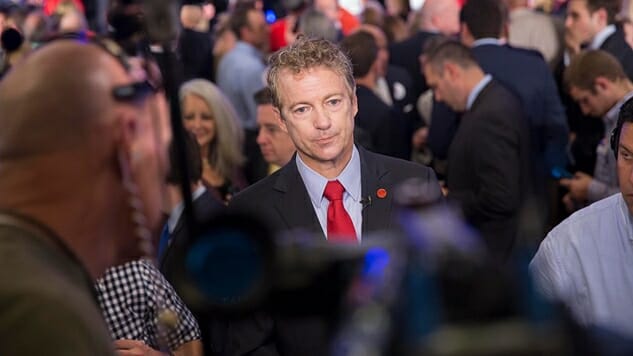 We here at Paste have something of a reputation for being dissatisfied with the Democratic Party. That is not the case here. I am extremely satisfied with one Democrat in particular. Kentucky Secretary of State Alison Lundergan Grimes is taking some heat for her comments about spineless libertarian cosplayer and full-time GOP bootlicker, Kentucky Senator Rand Paul. We are here to say that she should not back down, as her joke was (*Eric Cartman voice*) awesome and kewl. The money quote from Grimes comes via audio obtained by the Courier Journal:
"Rand Paul, he won't be there either 'cause, you know, he is in Russia right now. He's in Moscow looking for a campaign venture. Many folks think that Rand Paul can't be beat, they're worried he might be too well-liked. I don't buy that. Just ask his neighbor. He can be beaten."
Here's what happens when you convert that audio into video.
For the uninitiated, Grimes is referring to the time that Rand Paul got into a physical altercation with his neighbor in the culmination of an ongoing feud over their lawns. Paul suffered five fractured ribs and a lung contusion from the fight. Some may think it's in poor taste to joke about this, but we're talking about a guy who happily votes to take health care away from poor people while hemming and hawing about libertarian principles he never abides by, so we should be allowed to laugh at his need for health care. Grimes is taking heat for this joke, but we here at Paste would like to say that we stand behind her—and every single Democrat should too—as humiliating Rand Paul as often as possible should be considered a public service, given the outright fraud he has been peddling for years.
Jacob Weindling is a staff writer for Paste politics. Follow him on Twitter at @Jakeweindling.