Serial Staff Abuser Amy Klobuchar Says Staff Abuse Is Good Because, Uhhhh…Vladimir Putin
Photo courtesy of Getty
Politics
News
Amy Klobuchar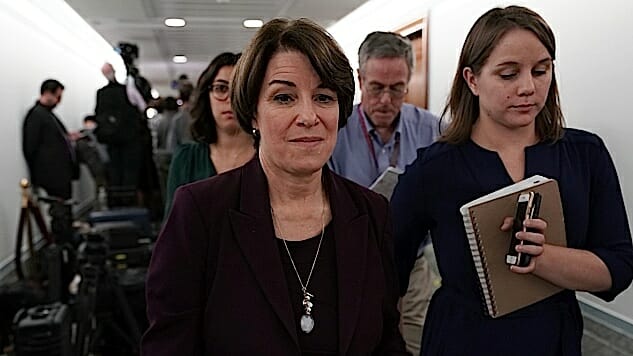 Amy Klobuchar is running a long-shot campaign for the Democratic presidential nomination, and her efforts were doomed almost before they began by a series of stories depicting her appalling treatment of her staff. Paste's Jason Rhode wrote about why these stories matter last month, but if you just want the dirt, features by Huffpo and NYMag are the essentials. It was so bad that she had enormous trouble even recruiting someone to run her campaign.
The story got so big that there was no way Klobuchar could avoid addressing it, aside from ending her candidacy. When interviewed by CNN's Poppy Harlow on Thursday, the Minnesota Senator really went for broke, implying that her history of staff abuse was actually "toughness," and that "toughness" would be necessary for dealing with enemies like Vladimir Putin. Read this quote:
Klobuchar cast the reports of staff mistreatment as a positive for her ability to operative on the international stage as president, namely when dealing with Russian President Vladimir Putin…
When you're out there on the world stage and dealing with people like Vladimir Putin, yeah, you want someone who's tough. You want someone that demands the answers and that's going to get things done, and that's what I've done my whole life."
That seems like exactly how we can neutralize Putin—assail him with 3 a.m. emails calling him "incompetent," force him to do chores around Klobuchar's house even though it's not in his job description, and then accuse him of being responsible for the Senator's failing marriage…all things Klobuchar did with her staff.
Of course, stripping the sarcasm away, it may be that none of her alleged "toughness" with her staff is applicable in any way to presidential diplomacy, and this is all nonsense from someone who is just a really godawful boss. The closest Klobuchar came to acknowledging her poor treatment was to say "one can always do better, and that means you want to be sure that you are listening to people if they felt that something was unfair, or they felt about something." But in the next breath, she added, "But I still think that you have to demand a good product."
If Klobuchar believes that her over-the-top abuse is anything close to the same as "demanding a good product," it proves she's learned nothing, and that she deserves this faltering sideshow she calls a campaign.