#CNNisTrash Trends on Twitter After Apparent Anti-Bernie Bias in Last Night's Debate
Image via CNN/YouTube
Politics
News
Bernie Sanders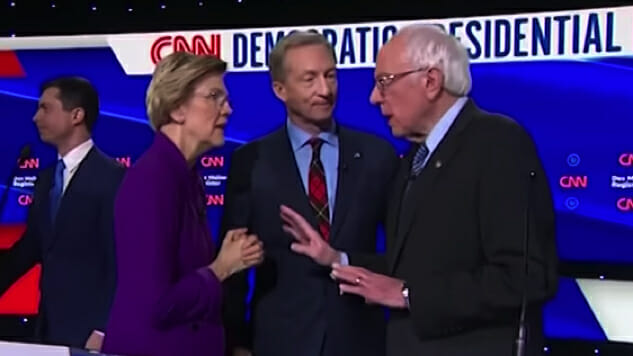 According to Sen. Elizabeth Warren, Sen. Bernie Sanders told her that a woman could never be president in a private meeting in 2018. While there has been no official fact check on whether that statement is true—and there can't be, at this point, since Sanders and Warren were the only two present—the moderators of Tuesday night's Democratic debate on CNN treated the allegation as a fact.
The hashtag #CNNisTrash quickly spread on Twitter after multiple questions from CNN correspondent Abby Phillip targeted Sanders for what he supposedly said to Warren in 2018. In one instance, it appeared that Phillips was intentionally framing Sanders as guilty when she refused to challenge Warren about whether her statement was true.
"So Sen. Sanders, I do want to be clear here," said Phillip. "You're saying that you never told Sen. Warren that a woman could not win the election."
Sanders replied: "That is correct."
But instead of turning to Warren and challenging the validity of her claim, Phillip instead completely ignored Sanders' denial, asking: "Sen. Warren, what did you think when Sen. Sanders told you a woman could not win the election?"
Many are rightfully pointing out that the allegation is ludicrous considering Sanders is not one to flip-flop on his political ideals, highlighting that he clearly stated that a woman could be president in a 1988 interview:
On top of that, he encouraged Warren to run in the 2016 election, only running himself after she decided not to.
Bernie supporters are particularly heated about the situation, especially because they truly believe that Sanders has been a staunch feminist and progressive for his entire political career. The hashtag #NeverWarren is currently trending, implying that some Bernie supporters find her recent tactic to be such a low blow that it has decimated their trust in her.
The level of disdain between the two most progressive Democratic candidates has been mounting recently, weirdly escalating with a confusing text message exchange between a Sanders campaigner and a Warren supporter.
The divisiveness between the Sanders and Warren camps is definitely worrisome, and the fervent supporters of both seem unwilling to see either of their preferred candidates as fallible. Ironically, even the people who are against the anti-Warren hashtags are adding to its momentum, sometimes in significant ways (for this, we have the awful algorithms to thank):
FASCINATING data here about #NeverWarren, the No. 1 trend in the United States right now.

The top three tweets about the hashtag in the world?—?from @johnpavlovitz, @mehdirhasan, @deetwocents?—all denounce people using it.

The algorithm is generating an opposite reality. pic.twitter.com/lAOyiS5S7G

— Ben Collins (@oneunderscore__) January 15, 2020
But what's even more annoying than passionate supporters who simply want to see a candidate who endorses a better future for everyone is the reality that out of all of the other flimsy, hypocritical and incoherent Democratic candidates, Warren felt the need to go after Sanders.