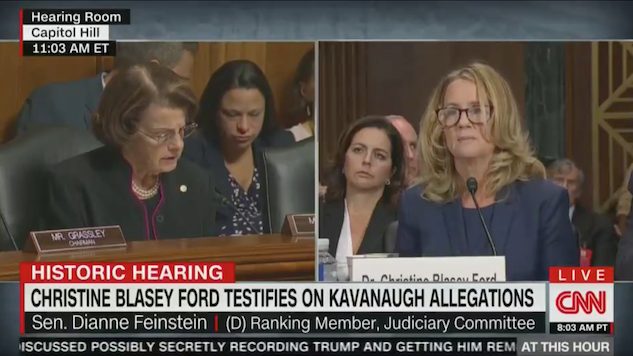 Earlier this week, in the midst of Supreme Court nominee Brett Kavanaugh's sexual assault allegations, Republicans attempted to put forward a misidentification theory. Per The Hill, two unidentified men attempted to come forward as the true attackers of Dr. Christine Blasey Ford. During her testimony on Thursday, Dr. Blasey Ford denied this theory outright.
Senator Feinstein began the hearing by asking outright if it was possible that Dr. Blasey Ford could have mistaken Kavanaugh or Mark Judge, who was accused of abetting the crime, for anyone else.
"So what you're telling us is this could not be a case of mistaken identity?" said Feinstein, to which Blasey Ford responded, "Absolutely not."
The strategy simultaneously discounts Dr. Blasey Ford's trauma and absolves Kavanaugh of guilt. After examining Kavanaugh's prepared remarks, The Hill reports that Kavanaugh will deny the allegations outright, so it's likely that the theory will appear again as part of his defense strategy.
Watch the segment in question below.
Ford shoots down the bizarre conspiracy theory Republicans have been pushing — that she was assaulted, but is mistaken about the identity of the assailant pic.twitter.com/ZyUMh8AQme

— Aaron Rupar (@atrupar) September 27, 2018