The EPA Will No Longer Evaluate the Health Risks of Asbestos Because Trump Believes it's 100-Percent Safe
Photo by Brook Mitchell/Getty
Politics
News
EPA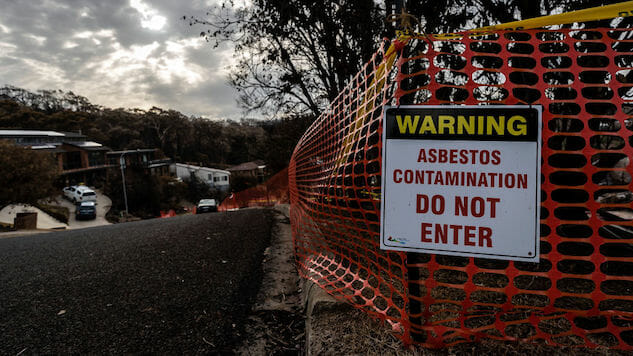 The Environmental Protection Agency will no longer evaluate asbestos in homes and businesses as a danger or health risk, as Newsweek reports. Scott Pruitt announced the decision last Friday under President Trump, who believes asbestos is "100 percent safe, once applied."
According to the Abestos Nation Campaign, asbestos kills 12,000 to 15,000 Americans every year. Fifty-five countries have completely banned the use of asbestos in any case, including the United Kingdom, South Africa, Japan and so on, in spite of which the EPA decided it was no longer necessary to evaluate the health risks of this chemical. The EPA will continue to evaluate and require approval for any new introduction or use of asbestos in the environment, but let the already-present chemical remain in schools, houses and public buildings. This decision comes shortly after the 2016 amendments to the Toxic Substances Control Act. These amendments made it mandatory for the EPA to do safety reviews of dangerous chemicals, such as asbestos, and create public notices of the safety information for those chemicals. The amendments also allowed the EPA to ban the use of asbestos in particular cases.
The EPA's decision didn't draw any backlash from the current administration because it aligns with Trump's opinions on asbestos—Trump wrote about the chemical in his 1997 book, The Art of the Comeback. He wrote, "I believe that the movement against asbestos was led by the mob, because it was often mob-related companies that would do the asbestos removal. Great pressure was put on politicians, and as usual, the politicians relented."
However, the decision is facing extreme backlash from organizations such as the Asbestos Disease Awareness Organization. The President of the organization Linda Reinstein stated, "The end result will be a seriously inadequate risk evaluation that fails to address major contributors to the heavy and growing toll of asbestos mortality and disease in the United States." Reinstein sat down with the EPA Office of Chemical Safety and Pollution Prevention's deputy assistant administrator Nancy Beck to discuss the decision. Reinstein was joined by the International Association of Fire Fighters and AFL-CIO representatives. The group was armed with over 100 studies proving the hazards of asbestos, even in low doses, and documentation showing that any exposure could cause disease. Other organizations also reached out attempting to stop the decision, such as the American Chemistry Council, but Beck didn't back down and the decision remained unchanged.
Reinstein said of the situation:
If you don't evaluate the dangerous legacy of asbestos you don't know how much contamination still exists in the United States. We know it's in our homes, schools, workplace and environment but the average American can't identify and evaluate the risk. We have taken risk evaluation off the table.
A recent report released by Senator Ed Markey from Massachusetts revealed that the government doesn't have a record of how many schools contain asbestos. Congressman Frank Pallone Jr., a ranking member of the Energy and Commerce Committee, also spoke out against the decision, saying, "EPA's refusal to address longstanding concerns around the use and disposal of asbestos is further proof that Administrator Pruitt will bend over backwards to help industry, but won't lift a finger to protect public health."