Chuck Schumer Calls for Labor Secretary Alex Acosta's Resignation for Protecting Jeffrey Epstein
Photo by Alex Wong/Getty
Politics
News
Jeffrey Epstein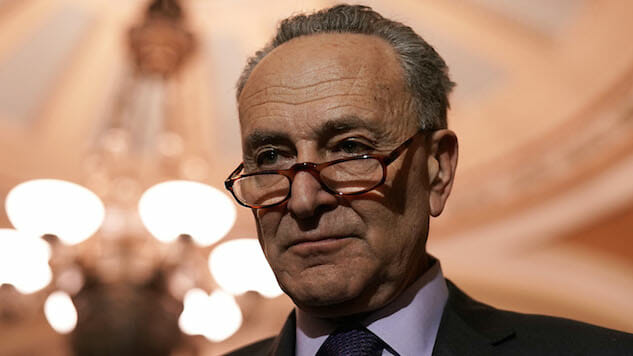 Senate Minority Leader Chuck Schumer has called for Labor Secretary Alex Acosta's resignation, Huffpost reports. In 2008, Acosta approved of a deal that allowed Jeffrey Epstein—a hedge fund manager recently revealed to be a sex offender, abuser, and pedophile —to avoid federal charges.
On the Senate floor, Schumer said that "the newly released evidence of Epstein's behavior involving dozens of children is sickening, is appalling, is despicable. Espstein should have been behind bars years ago."
In an attempt to save face, Acosta tweeted that "The crimes committed by Epstein are horrific, and I am pleased that NY prosecutors are moving forward with a case based on new evidence."
His critics are seeing right through it. House Speaker Nancy Pelosi has also called for Acosta's resignation, calling the deal an "unconscionable agreement" in a recent tweet. Presidential candidates Kamala Harris and Amy Klobuchar have likewise joined the calls for resignation, with Harris tweeting that "We need leaders committed to fighting for justice for survivors of abuse, not protecting predators."
Acosta being a billionaire, Trump loves him. In 2002, Trump referred to Epstein as a "terrific guy" that liked women "on the younger side," implying knowledge of Epstein's sex crime, before denying their relationship according to WaPo. In 1992, though, Trump was at a party with Epstein and 28 girls.
On top of the call for resignation, Schumer also made demands that the Justice Department's Office of Professional Responsibility make its review of Acosta's involvement in the deal public and that Trump clarify his remarks on Epstein.
Epstein pleaded not guilty on Monday morning.