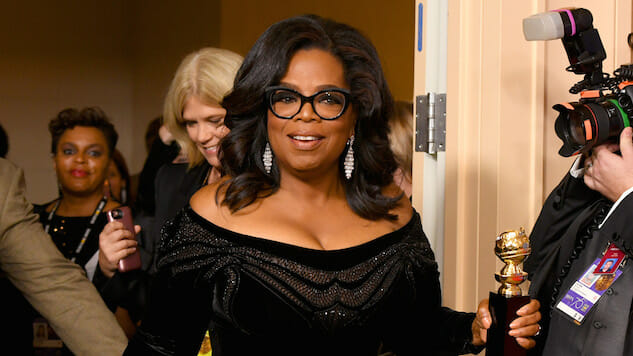 According to CBS This Morning anchor Gayle King, her longtime friend, TV icon Oprah Winfrey, is "intrigued" by a possible bid for the U.S. presidency.
Talking with her CBS co-anchors on Tuesday morning, King said:
I do think she's intrigued by the idea. I do think that. I also know that, after years of watching the Oprah show, you always have the right to change your mind. I don't think at this point she's actually considering it, but listen, there are people who have said they want to be her campaign manager, who want to quit their jobs and campaign for her.
King said she spoke with Winfrey on Monday night, but did not specifically share any direct quotes from Winfrey.
Winfrey was honored at Sunday night's Golden Globes with the Cecil B. DeMille award for her lifetime contributions to the entertainment industry. Golden Globes host Seth Meyers joked about a possible 2020 run for Winfrey with running mate Tom Hanks in his opening monologue.
In the monologue, Meyers referenced his own now-famous remarks at the 2011 White House Correspondents' Dinner where he mocked Trump's possible presidential bid while Trump was in the audience, leaving some to claim that Meyers convinced Trump to run.
Meyers said, "Some have said that night convinced [Trump] to run. So, if that's true, I just want to say: Oprah, you will never be president! You do not have what it takes. And [Tom] Hanks! Where's Hanks? You will never be vice president. You are too mean and unrelatable. Now we just wait and see."
The media has been arguing over whether a potential presidential run from Winfrey would be good for the Democratic party or the country, and whether it would set a dangerous precedent in American politics for more celebrities lacking political experience to run for public office.
Paste's Jacob Weindling argued this morning that if Winfrey runs for president, we should hear her out. Read his piece here.