Paul Manafort is Suing Robert Mueller, Rod Rosenstein and the Department of Justice
Photo by Chip Somodevilla/Getty
Politics
News
Paul Manafort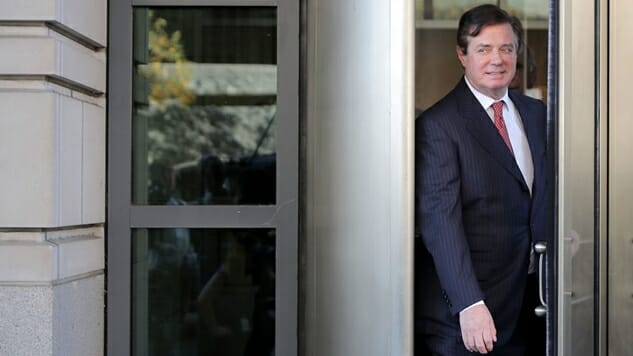 Today is an exceptionally stupid news day. It essentially began with President Trump's tweet threatening nuclear war last night, which was quickly eclipsed by the blood feud between Trump and Steve Bannon that spilled out in to public, and now we have another absurd item to add to our agenda: a lawsuit filed against the Department of Justice by a man who has already been indicted by the Department of Justice saying that the Department of Justice didn't have the right to indict him. Manafort is alleging that special counsel Robert Mueller is operating outside the authority given to him by Deputy Attorney General Rod Rosenstein. Per the complaint filed today:
This is a civil action under the Administrative Procedure Act, 5 U.S.C. §§701 et seq.; the Declaratory Judgment Act, 28 U.S.C. §2201; and for injunctive relief to restrict public officers to their lawful authority, against the United States Department of Justice ("DOJ"), Acting Attorney General Rod J. Rosenstein, and Robert S. Mueller III.
There is a lot of legalese in this lawsuit to parse through, so instead of jumping back and forth between the law and the lawsuit, I'll leave you with legal experts' snap reaction to this seemingly laughable case.
After a quick read, seems this might pass a laugh test (enough to become a ceaseless conservative talking point with double bonus Scalia points!!) but you have to squint really hard to see any merits. https://t.co/htK09kIHYL

— Susan Hennessey (@Susan_Hennessey) January 3, 2018
Specifically Manafort makes two claims:

1) Rod Rosenstein exceeded his and DOJ's authority in appointing Mueller at all (lol)

2) Mueller exceeded his mandate because the charges against Manafort didn't stem from the investigation of the campaign's interactions with Russia

— Pwn ?? ?? ???; Error 404(b)(1): 702 auth not found (@pwnallthethings) January 3, 2018
BREAKING: Manafort sues DOJ, Rosenstein & Mueller. My take: this is going nowhere fast. Morrison v. Olson upheld far more extensive indep. prosecutor powers, and courts will frown upon this. https://t.co/mHUTQtpibl

— Norm Eisen (@NormEisen) January 3, 2018
3/ It's hard to see why Manafort chose to file this civil lawsuit instead of filing a motion in the criminal case. My initial reaction is that he wants to gain additional media exposure without putting this in front of the judge who would ultimately sentence him if convicted.

— Renato Mariotti (@renato_mariotti) January 3, 2018
4/ This suit has almost no chance of success. Even if it succeeded, another federal prosecutor could indict Manafort for the same crimes, so it's a pointless suit. He's counting on the public (or conservative allies) to take this publicity stunt seriously. Don't. /end

— Renato Mariotti (@renato_mariotti) January 3, 2018
Manafort should be careful what he wishes for here. Even if he has a point, which I don't think he does, Mueller could remedy it by amending his indictment to claim that Manafort's acts with Trump were part of long running dealings with the Russians.

— Craig Calcaterra (@craigcalcaterra) January 3, 2018
Jacob Weindling is a staff writer for Paste politics. Follow him on Twitter at @Jakeweindling.